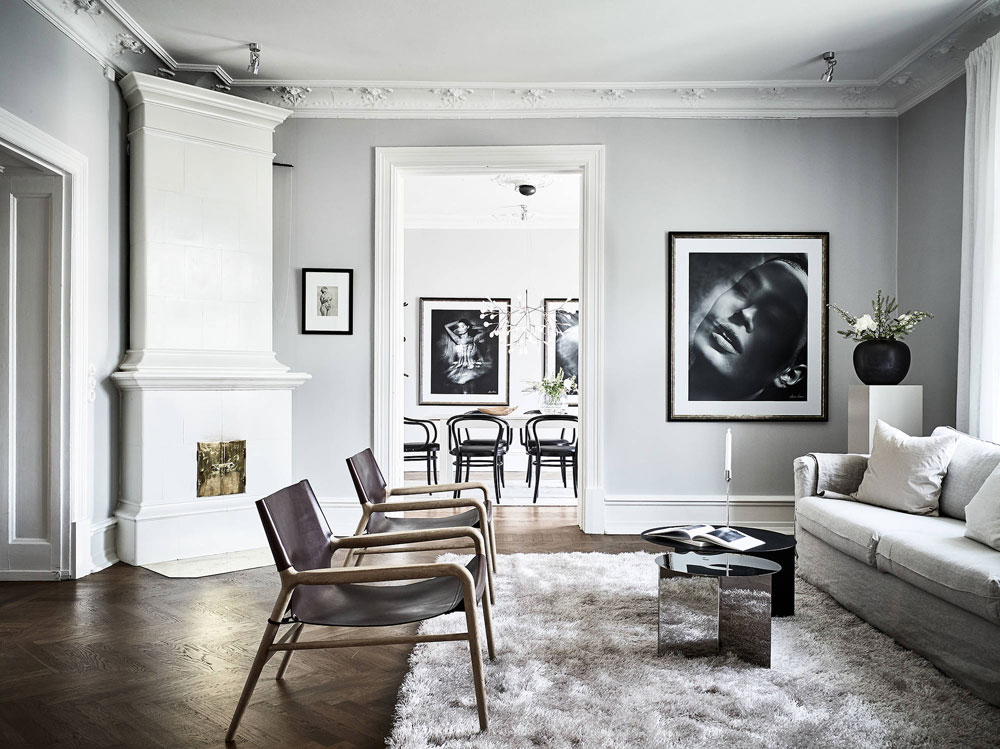 It seems I have a thing for classic interiors lately!
I spotted this beautiful apartment on the real estate site Stadshem, which specializes in "homes with history". And this one lives up to the slogan, with amazing ornate ceilings, double doors, abundant millwork, an original Swedish masonry stove, and herringbone parquet flooring. It is truly gorgeous.
I like the neutral palette that consists mainly of black, white and grey with some natural accents – The décor is keeping in line with the tone-on-tone trend, but with more contrasting details, which I like very much – I also apreciate that the floors are not the usual whitewashed or bare ones we usually see in Nordic homes. My own home has this color scheme, so I find this home tour inspiring.
In the dining room, you'll find black Thonet chairs, and an Heracleum pendant lamp by Moooi. Two Slit tables from HAY, one in black and ther other in a mirror finish, are a great combination for the living room, in between a linen sofa (see this one for something similar) and two beautiful Rama chairs by OX Denmarq. A Pion table lamp can also be spotted. For black and white photography art, have a look at these shops in my directory.
For more beautiful homes, have a look at my Inspiration Gallery.
Photos: Jonas Berg for Stadshem
SaveSave
SaveSave
SaveSave
SaveSave
SaveSave
SaveSave
SaveSave
SaveSave
SaveSave
SaveSave
SaveSave
SaveSave
SaveSave
---