Last summer, I posted about the recently-opened Hotel SP34 in Copenhagen, which used to be the Hotel Fox. The place was well-known for its creative and playful rooms decorated by different artists, and it was a popular place among the younger crowd. I had a fun and good memories when staying there a few years back, so I was curious to return and see what had changed. Last January, when planning my trip to in Copenhagen to visit the Northmodern trade show, I jumped on the opportunity to stay two nights at SP34 (thanks to Brøchner Hotels!) and to experience first hand what the buzz is all about.
The rumours are true. This is possibly the most trendy boutique hotel in Copenhagen at the moment. Hotel Fox's quirky rooms are long gone!
I amazed by the industrial chic interior, filled with cognac leather, concrete, brass, shades of grey and natural wood. It is sophisticated, modern, stylish and yet, very cozy. The look & feel has that beautiful Danish simplicity. I took many pictures during my stay for my "remember list", with the hope to recreate some of the many interesting details at home. I just loved the mix of materials, textures and colours!
I had a gorgeous room with a large bay window on the second floor. Everything was still fairly new, and there was everything one could asked for: Comfy bed and soft linen, storage space for clothing, safety deposit box, iron and ironing board, full-length mirror, hairdryer, REN toiletries, a kettle with coffee and tea, etc. I really enjoyed spending quiet time in my room. And when I was needing social time and wanting to meet people, I just popped by the lively lobby bar, with its cozy chairs and sofas, cool ambiance and interesting crowd.
The breakfast was an organic feast. Truly delicious and plentiful.
The location was also perfect; A two-minute's walk to the City Hall Square, Tivoli and Strøget, and close to the Central Station and Nørreport. There is a lovely park nearby, as well as numerous cafés, restaurants, convenience stores and shops. Inside the same building as SP34, you'll find a tapas eatery and a burger joint, Cock's and Cow, apparently the best of the city.
Hotel SP34 is definitely among the nicest places I've stayed at in a while. I definitely recommend it!
Hotel SP34
Sankt Peders Staede 34
1453 Copenhagen
Denmark
+45 3395 7777
You can view more pics here.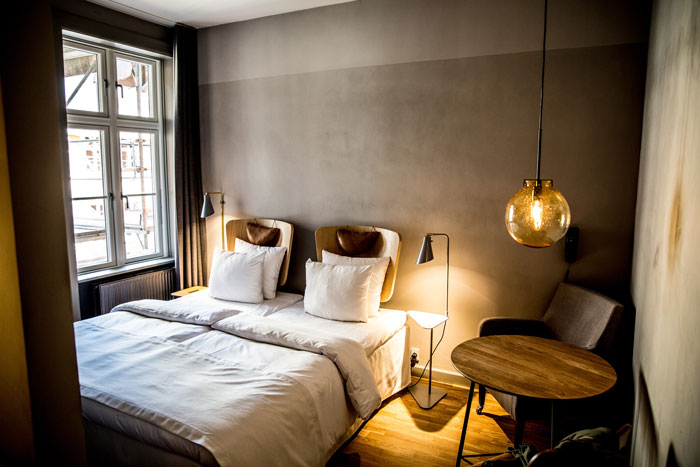 Photos: Brøchner Hotels
---