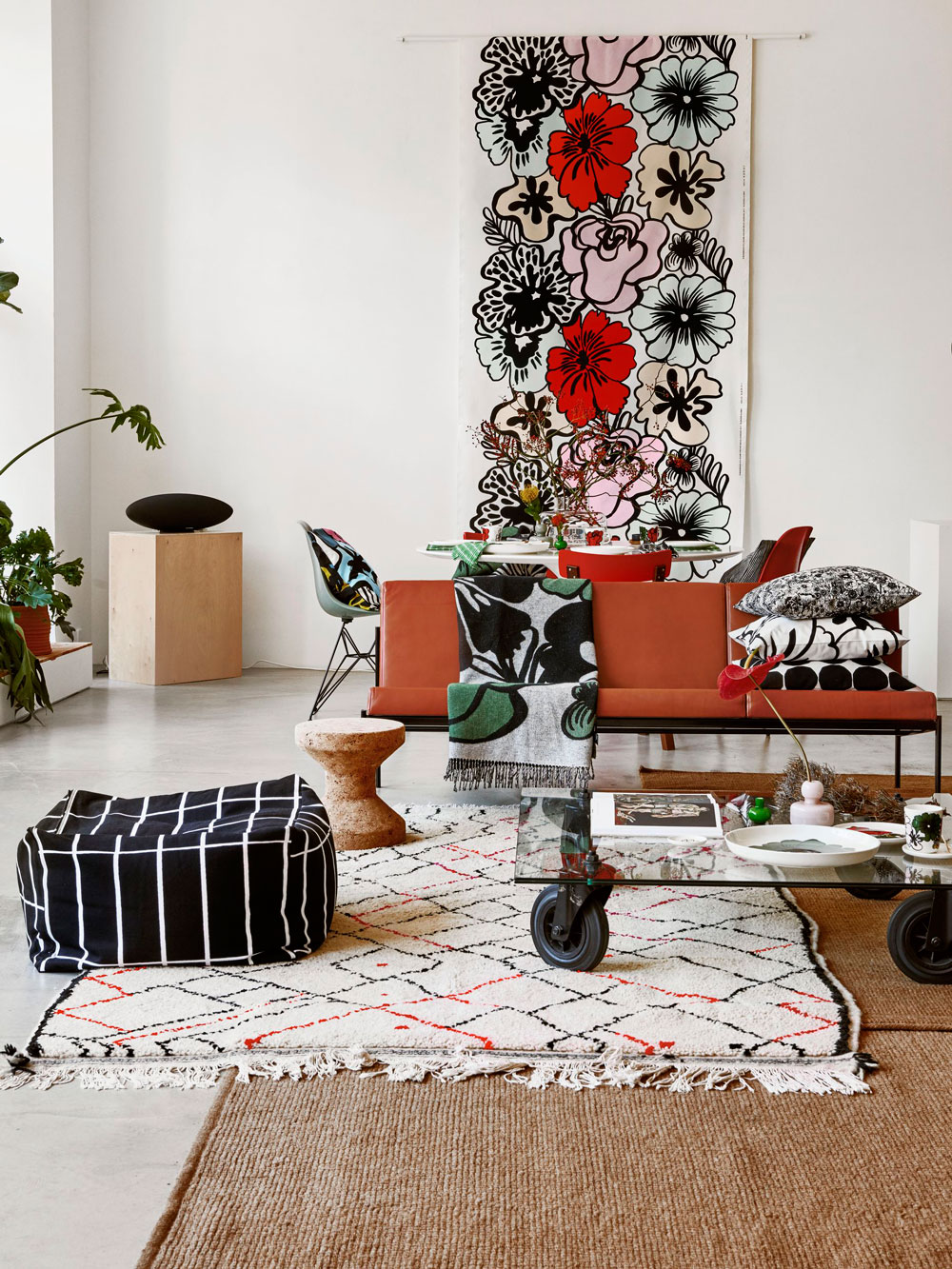 We've not yet reached mid-winter, and many of us are already dreaming about warmer days… I am one of them! So many brands are releasing dreamy images of their spring/summer 2019 collection, making me want to put a halt to my hibernation right away. I am more than ready to step out of the dark and to dust off the snow, to enjoy the sun, flowers and 'al fresco' coffees. There are several weeks to go before the arrival of the new season (bummer) so in the meantime, I'll enjoy these beautiful and inspiring pictures from Marimekko, Tine K Home, String, Day Home and HM home. And I hope you'll do too!
Photos: Marimekko
Marimekko
"Bold by nature" is the theme of the Finnish design house's spring collection, which explores empowerment through joy and self-expression, with colorful patterns and contrasts – From delicate pastels to primary colors and bold black lines. It is definitely playful! "We provide an opportunity to dress up your home with florals that never fade." What's not to love?
Photos: Tine K Home
Tine K Home
Nothing says more "summer" in my book than linen and rattan furniture, wouldn't you agree? These images of Danish brand Tine K Home make me dream of a balmy evening lounging around on the patio… I am loving the beautiful simplicity of this minimal and sophisticated look, and its serene quality.
Photos: String
String
Swedish brand String recently shared pictures of its new outdoor version of its popular modular storage system in galvanized steel. The beautiful, monochrome and spring-infused styling is by Lotta Agaton. Who else feels like gardening after seeing these pics?
Photos: Day Home
Day Home
Cheerful colors dominate Day Home's latest collection. You'll see some fresh touches or pink, purple and orange, as well as sculptural shapes and travel-inspired patterns. Overall, a great bohemian chic style with a Scandinavian elegance.
Photos: Renee Kemps for HM
HM Home
The Swedish retail giant revealed two series of photos for its Spring/Summer 2019 collection; One is showing light blue accents while the other one features pink and muted red tones. Both are seen with white, beige and contrasting black patterns. The brand also went for sculptural shapes, and you'll notice a vase with the trending modernist-inspired line drawings.
Feeling inspired? Let me know in the comment section below!
---