As I write these words, I am looking outside the window at the 40 cm of fresh snow that accumulated overnight. As I shared yesterday, I am impatient to have the warmer season grace us with its presence. So I am inspired to seek ways to make my house feel less like a hibernation cave… It's time to freshen things up and infuse my house with a breath of fresh air.
Here, I'm sharing my top tips to create a breezy and bright interior perfect for spring.
1. Decluttering is key
With spring often comes a much-needed cleaning of the house. It is the perfect time to go through your stuff and purge, throw away, donate, sell or recycle. Decluttering helps to make a home more functional, free of visual noise and, thus, more serene. Keep things organized and random tidbits out of sight with stylish storage solutions.
.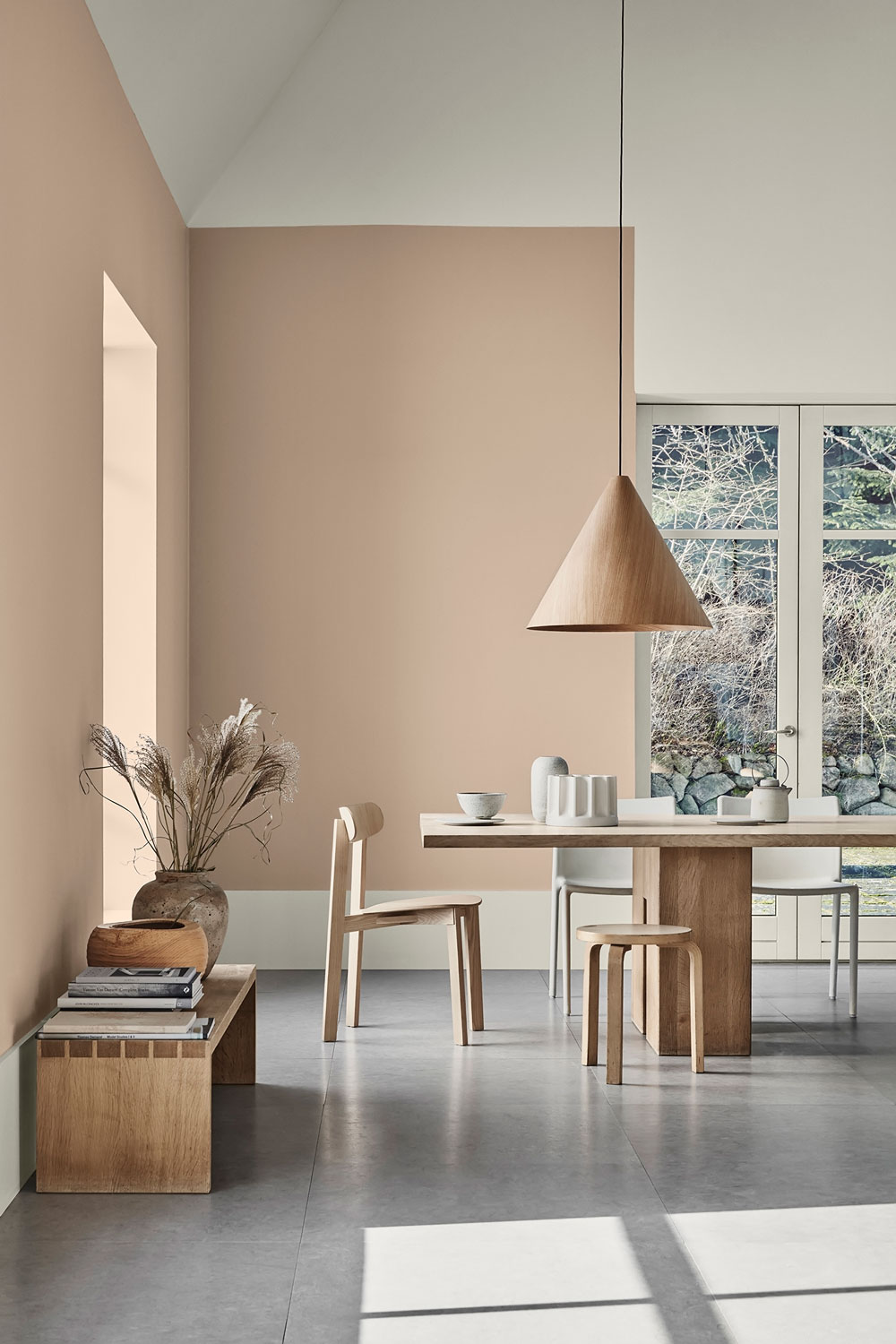 2. New wall paint
A gallon of paint is probably the most cost-effective way to spruce up your home on a budget, and refreshing the wall color is the quickest way to make an old room feel new. Choose a pretty pale hue like Devine from Jotun Lady, a lovely muted shade of pink. An idea is to paint an accent wall or a statement ceiling if you are not a fan of the total look.
.
3. Foliage & flowers
Bring the garden inside with fresh leaves, flowers or spring branches like hyacinth, poppies, magnolias, cherry blossoms, pussy willows, etc. or simply green plants, as shown above. Quick, easy and affordable. For some inspiration, check out my gallery page dedicated to the subject.
.
.
4. Light color palette
Adding crisp white accents is a good starting place to make a room look more bright and light. Incorporate warm, earthy colors like sand, clay, wheat, stone or anything greige, for a trendy tone-on-tone palette that instantly brings a serene vibe and a beautiful simplicity.
..
5. Nature-Inspired Artwork
Here's another way to bring the outside in: Nature-inspired artwork featuring mountains, beached and forests, or with a botanical theme, will quickly update the look of a room. I like affordable yet stylish solutions offered by print retailers such as Opposite Wall (shown above).
.
.
6. Decorative pillows
If a full monochromatic design scheme (see #4) is not your thing, you can liven up a simple palette by adding more colorful accent pillows on your sofa, lounge chair, bed, deep window sills, etc. Danish designer Christina Lundsteen has a beautiful collection of velvet cushions in delicious colors like peach, barley or jam, as well as with unique, playful patterns that can bring a cheerful touch to any room.
.
7. Fresh Scent
Rejuvenate your senses and transform the mood of a room with a diffuser or scented candle. I like Skandinavisk's Rosenhave scented candle from the Escape collection, with its aromas of Alba rose, elderflower, blackcurrant and lily of the valley – It will make you feel like you are in the middle of a blooming field!
..

8. New bedding
Brighten up your bedroom with new bedsheets in linen or crisp cotton, perfect for warmer nights. Florals are the go-to pattern for a spring-inspired look, and I suggest Finnish design house Marimekko's iconic Unikko print in the new beautiful palette of beige, off-white and light blue.
Am I missing anything? Feel free to share your tips on how to freshen up your home this season!
Need help giving your home a Scandinavian makeover? Check out the Nordic Design Studio for e-decor and interior consulting.
Note: This post was first published in 2018 and has been updated and republished.
Photos: Nina Holst x2 | Jotun | Only Deco Love | Haily Hills | Opposite Wall | Christina Lundsteen | Skandinavisk | Marimekko
Got a decor inspiration board? Pin this for later:
SaveSaveSaveSave
SaveSave
SaveSaveSaveSave
SaveSaveSaveSave
SaveSave
SaveSave
---