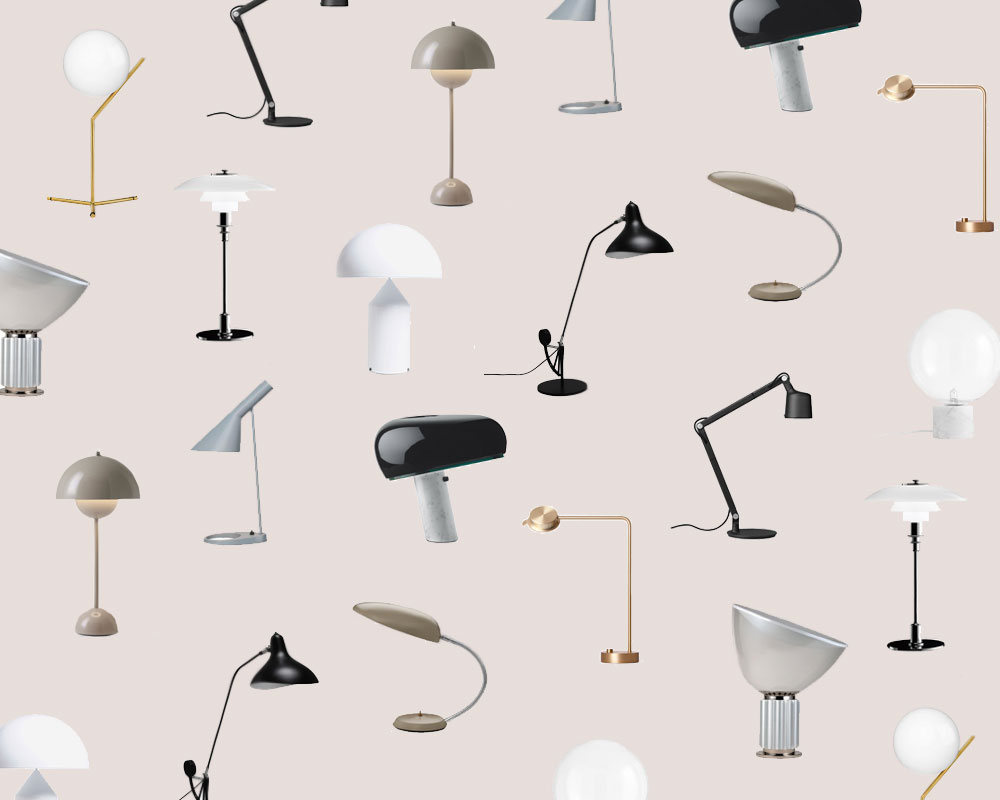 Confession: I am obsessed with lamps.
My eye is automatically drawn to them when I look at a home tour (like this one, for instance), and my wish list if filled with them.
When I treat myself to a new piece, it takes the center stage in my décor. With a sculptural shape, it contributes to the beautification of the space; it has a huge impact on the mood and ambiance of a room. It can induce a feeling of calm or have an invigorating effect; it adds warmth and an instant coziness factor; it changes the look of the place and brings it to life.
They are so many great designs out there, it can be both a blessing and a curse. Made with brass, stainless steel, marble, concrete, plastic, with opal shades or bare bulbs, with an eye-catching design or a more subtle style… The options are virtually endless, and it can be difficult to decide which one(s) to pick.
I've rounded up my favorite table lamps that any design fan should know, collect and/or keep forever. Admittedly, this is not a list for the budget-conscious; As I am a firm believer in buying less, but better, I am all about choosing quality products I know I'll love for a long time. It usually means I'll be cutting back lattes to save for that special piece. So rest assured my roundup includes timeless designs – So timeless in fact, some saw the light (no pun intended) as early as 1930 (#28), and they are still very much relevant and current. You'll also surely recognize some lamps that have been seen a lot in interiors featured on the site in the last months, such as the Taccia (#14), the Snoopy (#12) or the IC lights (#11 and #23).
On a desk, console, sideboard, nightstand, side table… these fantastic, stylish table lamps are totally worth it.
All source after the jump.

Find them here:

1. Kaiser-Idell Luxus by Christian Dell for Fritz Hansen
2. Reade by Soren Rose Studio for Menu
3. AJ lamp by Arne Jacobsen for Louis Poulsen Lighting
4. Cloche by Lars Beller Fjetland for Wrong.London
5. Caravaggio Read by Cecilie Manz for Lightyears
6. W102 by David Chipperfield for Wästberg
7. Leaf by Broberg & Ridderstråle for Muuto
8. Desk lamp by Vipp
9. Atollo lamp by Vico Magistretti for Oluce
10. PH 3/2 by Poul Henningsen for Louis Poulsen Lighting
11. IC T1 by Michael Anastassiades for Flos
12. Snoopy lamp by Achille Castiglioni for Flop
13. Mantis by Bernard Schottlander for DCW Editions
14. Taccia by Achille Castiglioni for Flos
15. Tip of the Tongue by Michael Anastassiades for Flos
16. SV6 Marble light by Studio Vit for &Tradition
17. Grasshopper by Greta Grossman for Gubi
18. Rituals by Ludovica and Roberto Palomba for Foscarini
19. Flowerpot VP3 by Verner Panton for &Tradition
20. Helios by Workstead
21. Tripod by Serge Mouille
22. Pipistrello by Gae Aulenti for Martinelli Luce
23. IC T1 Low by Michael Anastassiades for Flos
24. PJ 60 by Örsjö
25. Milk by Norm Architects for &Tradition
26. Cobra by Greta Grossman for Gubi
27. Pedrera ABC by Barba Corsini for Gubi
28. Bestlite BL1 by Robert Dudley for Gubi
29. Cesta lamp by Miguel Milá for Santa & Cole
30. Tolomeo by De Lucchi & Fassina for Artemide
31. JWDA table lamb by Jonas Wagell for Menu
32. Gatto by Achille & Pier Giacomo Castiglioni for Flos
33. T Model by Anour
Which ones are your favorites?
---