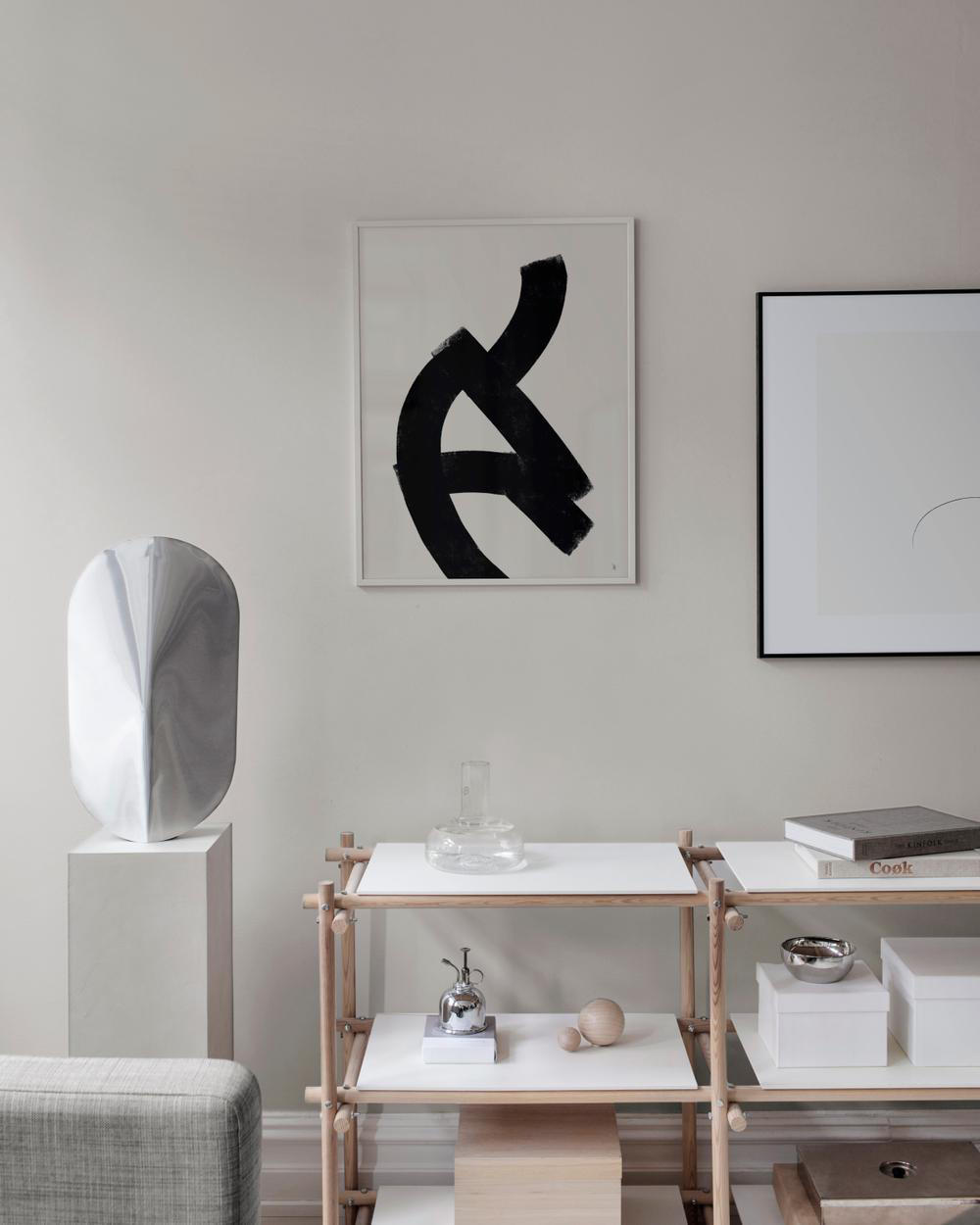 Designstuff is a fab online store selling designer and contemporary homewares, founded by Danish-born Christina Fedders. From exclusive furniture to decorative details and the perfect gift ideas, Designstuff has it all. The shop has been steadily building a solid reputation as THE provider of Scandinavian design to Australia. And it ships worlwide! You'll find young brands such as Frama, CamCam, Kristina Dam Studio, Moebe and AYTM, as well as well-established names like HAY, Muuto and Normann Copenhagen.
Created for "people who love to live through design", I wanted to know more about this philosophy and the shop's founder.
Q: Tell us a little about yourself:
A: Hi there! I'm Christina, a mum of two beautiful children, wife to an amazing husband, and design curator and appreciator. I'm also the founder of Designstuff, an online store focused on providing beautiful home wares and furniture with a Scandinavian feel.
Q: What inspired you to start your shop?
A: Growing up, I'd always been interested in design. I think I can attribute this in part to having grown up in Denmark, where design plays an integral part in day-to-day life. I also have my parents and grandparents to thank for this, as they taught me to really appreciate considered and well-executed design by understanding the importance of balance between form, function, materiality, and composition.
Whilst working in the fashion industry, I would often find myself travelling overseas. On returning home, I'd find my suitcase filled with beautiful decorative pieces I'd picked up on my trip which I wasn't able to purchase locally. I came to realise my love for home wares and interiors was more than just an interest stemming from my childhood; it was a true passion. This all came at a time, not long after the birth of my daughter, when I realised I needed a change in career so I decided to follow my heart and start an online store focused on providing genuine Scandinavian designs. It all felt very natural.
Q: What sets your shop aside from it's competitors?
A: Having started at a time when Scandinavian design brands were hard to come by in Australia, it's interesting to see how far it has come in such a short period of time. We are constantly searching and challenging ourselves to find new brands and products without straying from our core beliefs and principles, as a way to stay unique and relevant. We're very careful when it comes to selecting the items we choose to stock; you could almost call us a team of curators. We respect trends but choose to focus on style and longevity. The products you'll find on our virtual shelves tell a story, one rich in design and quality, with a purpose to cultivate a harmonious space for years to come.
Q: Who or what influences your style? To what do you attribute your wonderful aesthetic?
A: It may sound cliché, but I draw inspiration from nearly everything around me.
To focus in on a few specific sources, I'd have to begin with my parents and grandparents. As I previously mentioned, they've really helped shaped my appreciation and understanding of design, which in turn influences the products and brands stocked at Designstuff. I'm therefore endlessly thankful for the wisdom and knowledge they have given me.
Having worked in fashion, I often find myself consulting the industry for advice when searching for new décor pieces and furniture. I believe there is a great deal of crossover between the two industries, particularly when it comes to colour and fabrics, and I try to use my understanding of both worlds to my advantage.
Finally, I'm always listening to and watching the people around me, be it the team at work, my family at home, or even the barista at my local café, to understand how they interact with their environment and what they perceive as being important. From this, I derive a great deal of inspiration to assist in developing a relatable aesthetic and style within the Designstuff store.
Q: How do you find the pieces/products for your store?
A: A great deal of research goes into finding the perfect product to compliment our store. We invest a great deal of respect for the larger and more recognised Scandinavian design houses, such as Ferm Living and Menu, and can will usually approach their new collections with confidence that they will contain pieces that meet our expectations and brand ethos.
Locally, we aim to attend all major trade shows with the hopes of discovering new and incredible brands and talent. We were very lucky to have met Jonathan Ben-Tovim, who designs the most stunning pendants, at an interiors trade fair a couple of years ago. It's discoveries like this that keep us inspired and motivated.
I like to occasionally visit crowdfunding sites and platforms, such as Kickstarter, on the hunt for up and coming products that might work well with our market.
Q: What are the biggest challenges you face with running your own store?
A: I'm constantly on the go, be it for meetings, doing runs between our warehouse and office, or attending afterschool activities with my children. I'm always rejigging my schedule to make sure I have a healthy balance between my work and home-life. Thankfully, I have a very reliable team whom I can trust with the daily goings-on of the business if I become held up.
Q: What do you love most about having your own store?
A: I absolutely love the customer service aspect of owning my own store. I get a kick out of helping people, regardless of the magnitude of the situation I'm trying to resolve. From helping a customer find the perfect centerpiece for their dining table, or assisting with missing shipments, I'm always exhilarated when I know I've provided a great level of customer service.
Q: What are you proud of?
A: I'm proud of many things in my life. I'm proud of my family and everything we have achieved both individually and together. I'm proud of the development of Designstuff, how far it has come, and how much more it could grow. I'm proud of my team, who are so dedicated to the business and share in my dream of success. Finally, I'm proud of myself, and all of my accomplishments to date. I think it's important to stay humble, but also celebrate your own achievements as important milestones.
Q: Do you have any special projects or exciting future plans?
A: We definitely do! We're finally making the final steps in opening up our very first showroom/flagship store. It's been a VERY long time in the making, but we've been cautious to ensure both the timing and design is perfect. We can't wait to share our own design story with our customers in person.
Q: Is style important in a home? If so, why?
A: I believe style is incredibly important in the home. We all have our own tastes and preferences, which I feel should be expressed in as many environments as possible. The home is a constant in everyone's life and is a reflection of who we are as a person. Curating the perfect collection of home wares and furniture, I feel, is both fun and therapeutic. It helps create a space we feel comfortable and happy in.
Q: What is your take on the current trend of "buying less, but better"? Do you find it important and if so, why
A: I like to think of this as more than just a trend, but as an improved way of thinking. We believe in quality over quantity, and making considered choices, when it comes to purchases is the way forward. It's easy to get excited over trend pieces, but consider what you're going to do with that purchase when that trend is no longer in vogue. A well-designed product made from quality materials, and offering a necessary function, in addition to stylish aesthetics, is something you will love and cherish for many years. Over time, these pieces will endure trends and create memories.
Q: How does design benefits a lifestyle? Why is it important?
A: Design impacts our day-to-day life, often without us realising it. This is true in both good and bad design. Bad design will often prove to be more of a hindrance than help, which is probably why we pay it more attention. When it comes to good design, both aesthetics and function seamlessly fit in with our lifestyle. From a perfectly shaped coffee cup, to a beautiful marble topped cabinet, these pieces elevate our lifestyle through convenience and ambience.
Q: What is your all-time favourite design piece(s) and/or design piece(s) that is(are) on your wish list:
A: I'm going to go with a piece we actually stock in-store, the Kristina Dam Studio Grid Cabinet. It is so beautifully designed, I fall in love every time I see it. I've already found the exact spot in my home I'd place one – maybe when the kids are a little older…
Make sure to visit Designstuff for well-curated design, and don't forget to bookmark this great shop!
Shipping from: Australia
Shipping to: Worldwide
Brands: Alchemy Produx, Barnaby Lane, Bloomingville, Bruzzoni, by lassen, CamCam, Frama, Ferm Living, H. Skjalm P., HAY, Kin Design Co., Kristina Dam Studio, Menu, Meraki, Middle of Nowhere, Moebe, Mrs Mighetto, Muuto, Normann Copenhagen, Oliver Furniture, Ommo, OYOY, Paper Collective, Skultuna, Woud, Zakkia, Zone Denmark – And more!
For more top nline shopping destinations I recommend, check out the directory.
Photos: Nord Projects | Menu | Zakkia | Menu | By Lassen | Meraki | Kristina Dam | Designstuff
SaveSave
SaveSave
SaveSave
SaveSave
SaveSave
SaveSave
SaveSave
SaveSave
---