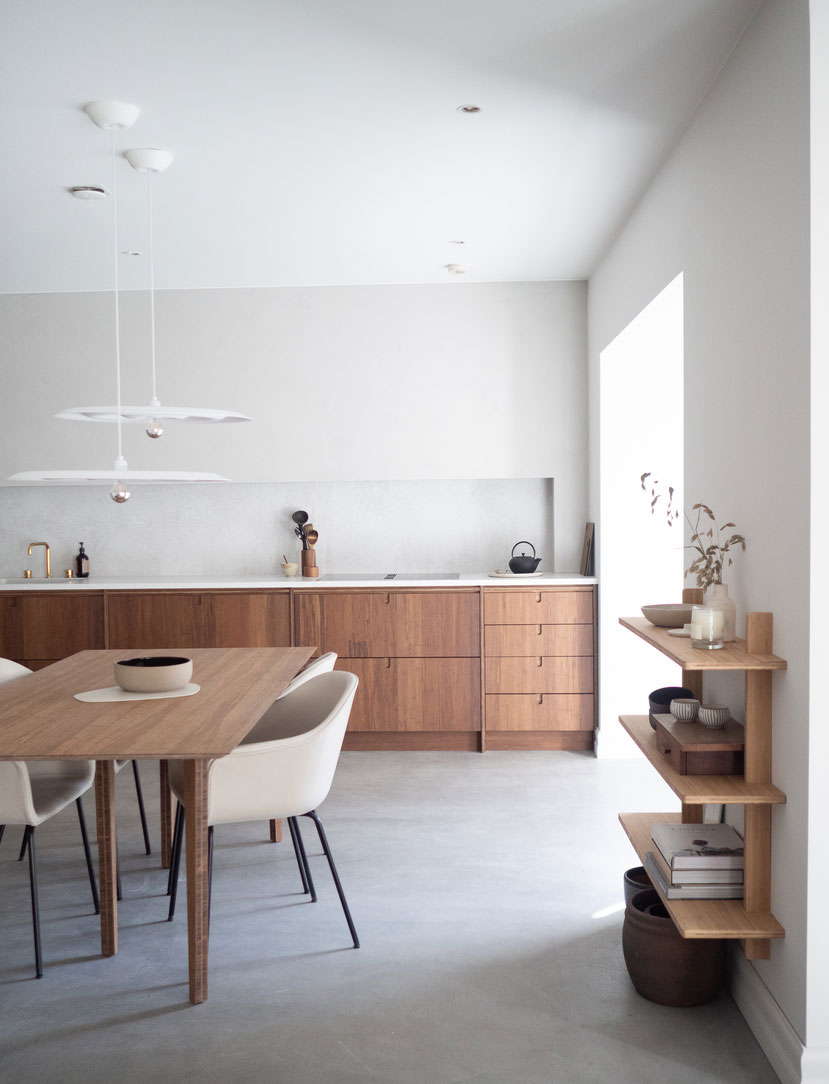 .
I love to hear stories of talented people who started companies, with the goal to make a difference in the world. Being an entrepreneur and small business owner myself, I find inspiration in getting to know individuals driven by a vision, a passion, a curiosity, and a determination; people with a mission. And Kine Ask Sternersen is one of them.
Kine and her partner Kristoffer Eng are 'accidental entrepreneurs'. They couldn't find what they were looking for in the market, so they created it: Stylish kitchen cabinets made of bamboo, a sustainable and versatile material. And Ask og Eng was born!
After a year of renovating my own kitchen, I knew a thing or two about materials and design options. But when I visited their showroom in Oslo last year, I discovered something I had never seen before. I was truly impressed.
I was curious to find out more about the Norwegian company, and Kine kindly agreed to answer my questions.
Q: What inspired you to start Ask og Eng?
A: "It all started for us when we built our first kitchen in our first apartment together. We wanted to find sustainable solutions when renovating, and when Kristoffer came across bamboo as material in a project he was working on as an architect, he wondered if we should not just build the kitchen ourselves. As an environmental geographer, but also with a developing interest in interior design, I instantly loved the aesthetics of the bamboo and its sustainability. However, we had never really built anything before, besides the one wall we had put up while looking at YouTube videos to figure out how to do it… But we went ahead and did it. It felt so good building something ourselves while falling in love with the material at the same time. So when we later decided to move, expecting our first child, we decided to build a bamboo kitchen once again.
And from there the ball just started rolling! We started making kitchens and whatever people asked for, from the inside of our garage. Soon enough the workshop took over our whole house and at that point, we decided to rent a space and keep developing what Ask og Eng has come to be.
So looking back, there is not one specific moment that inspired us to start Ask og Eng. It just grew organically and as a part of us. All the way it has made us feel joy, even with its ups and downs, so that has been our drive to keep going.
Q: So your background is in environmental geography and climate change, and Kristoffer is an architect. How does this reflect in your design?
A: It is what led us to the natural material bamboo in the first place. A big advantage of coming from those two different backgrounds is that we have different approaches and perspectives on things.
Q: Can you tell me more about bamboo and why did you choose this material?
A: Like many other people, we are trying to live a more conscious lifestyle and find sustainable solutions. Bamboo is one of the fastest-growing plants in the world; the stem matures in 4-6 years, compared to over 50 years for other trees. It absorbs more Co2 than is released during production, something that makes it Co2 neutral over the complete lifecycle. And it grows this fast without using any pesticides, herbicides or artificial fertilizers. We also love bamboo because it is beautiful, durable and versatile.
Q: You have a wonderful sense of aesthetic – Minimal and warm. What influences your style and/or where do you find inspiration?
A: Well, thank you. So happy you like what we do! We definitely find a lot of inspiration when meeting people and discovering other cultures. We also try to make things that we think can be timeless and classic, so we do find some inspiration in looking back in history.
Q: Do you have any special projects or exciting future plans?
A: We are seeing more projects abroad this year, which is really exciting. Also, since that Kristoffer now also working full time to develop Ask og Eng, we will be able to take on larger retail and residential projects. This is something we are really looking forward to!
Q: Any advice you would give to somebody planning a kitchen remodel?
A: Leave it to us… haha! ut seriously, one should try not to stress about it too much. A room gives so many possibilities, and do not focus on being trendy. Choose something you love and of high quality and, hopefully, that you will then be able to enjoy for a lifetime.
Q: Why/How is style important in a home?
A: I think it is vital that the style reflects the people living there. A home should be a place where one can relax.
Q: What is your all-time favorite design piece that is on your wish list?
A: Dieter Rams L2 speaker
Q: What do you love about living in Norway?
A: I love that Norway has one of the best democracies in the world, where most citizens vote and feel that they have a voice. It gives most people economic freedom and makes the gap between rich and poor less evident (smaller?) than in many other countries in the world."
Visit the website of Ask og Eng to find out more!
Photos: Ask og Eng
---