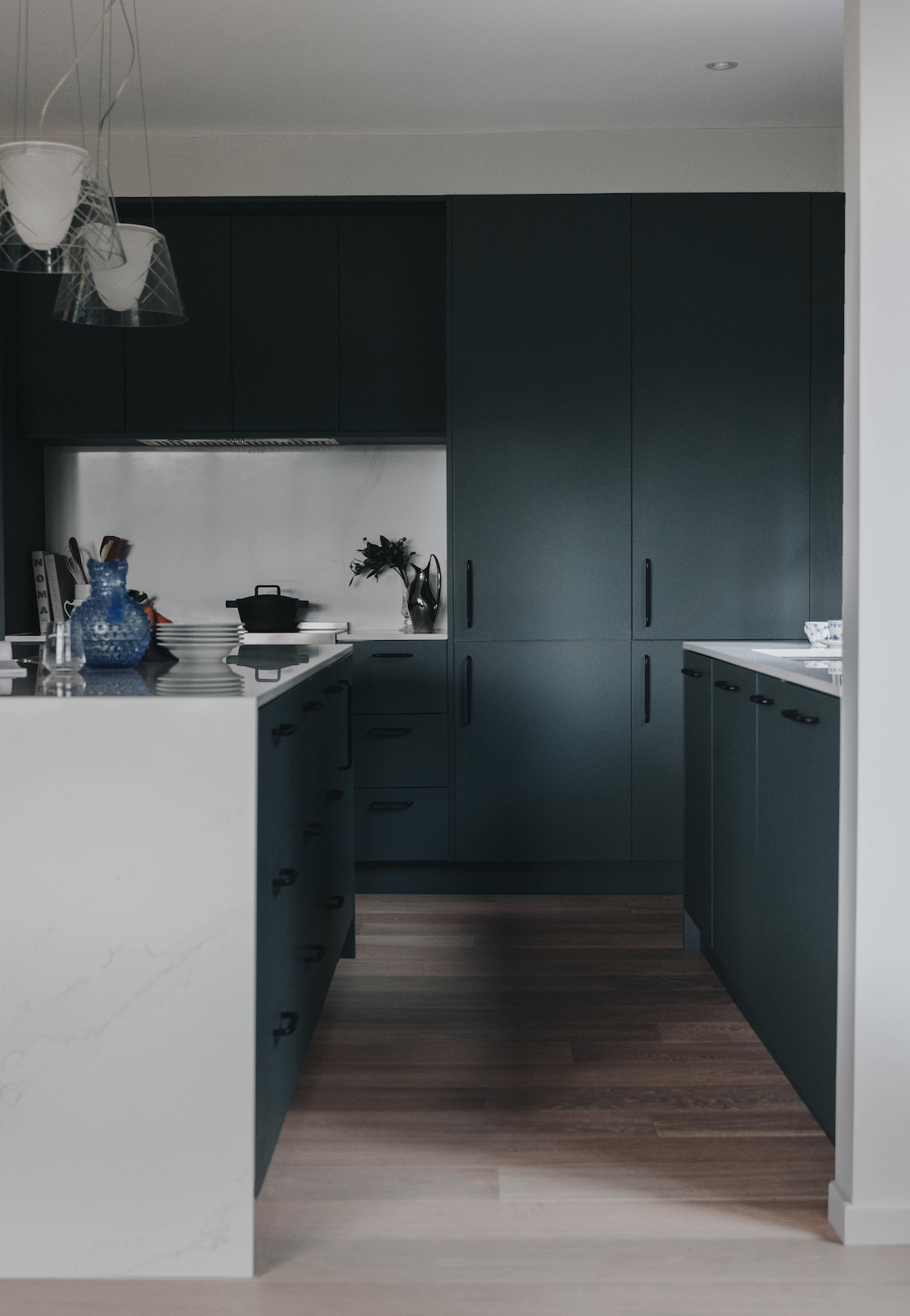 I hinted about my kitchen makeover a few weeks ago, and now I am super excited to finally share pictures of the transformation with you!
As explained in a previous article, we purchased a house that was untouched since the 80s and renovating the kitchen was up high on the wish list. I am not going to lie, this project took longer than expected. That's because 1) we did a complete overhaul, knocking down a wall and discovering asbestos in the process, 2) we did everything ourselves and 3) we did a lot of research… And I am saving you a bulk of time by telling you all about Kitch!
The Process
First, let me give you some context. For our new kitchen, I approached a rising architect, a talented interior designer, and a local carpenter. Their solutions were all beautiful and interesting. However, there were things we didn't want to compromise on, like new flooring or a high quality stone countertop. Plus, we had to change all appliances… So our budget didn't allow us to go for what the aforementioned professionals proposed. Unafraid of DIYs, we took this project into our own hands and went to IKEA instead.
The quality of the Swedish giant's cabinets is totally acceptable, affordable, and they are guaranteed for 25 years. But I didn't want a cookie-cutter look, and I certainly did not want the new kitchen to look quickly pieced together by two amateurs… We wanted to have a high level of detail and, most importantly, to create a space that felt like us and tailored to our lifestyle. After all, we were going to spend a considerable amount of money on this renovation and we were planning to live here for a while, so better do it well, right? Enters Kitch.
Founded in 2017 by Andrew Hibbs (read my interview with him to find out more), Kitch manufactures stylish fronts and side panels to customize IKEA products. The company promises a perfect balance between style and budget, with virtually endless possibilities. And the process is simple: Make a choice between slab or shaker doors, then select a premium finish and color. Share your IKEA plan with the Kitch team and place your order. Everything is delivered in 3-5 weeks, and you'll pay between 25-50% less compared to a complete tailor-made option. You can either keep that money into your pocket, or splurge on a few amazing upgrades instead (which we did!).
Here are some pictures of my newly renovated kitchen.
Fronts & panels
These fronts and side panels from Kitch are made with Fenix NTM®. It is a super matte, soft to the touch, and also anti-fingerprint -Awesome when you have children and love dark cabinets (two things that usually don't go hand in hand). Plus, it is highly durable, anti-bacterial, mould-proof, liquid repellent, resistant to scratches and dry heat. So many pros, and perfect for our family!
I wanted a black kitchen for so long, but in an unexpected twist of events, we ultimately chose to go for a green color. We were drawn to that muted shade that transforms beautifully with the light, and that reminds us of the surrounding nature. It gives a modern and edgy look to the space, while still being in character with the rest of the house. It has personality, but it is also classic and versatile.
The color scheme indeed gives us flexibility when it comes to faucet and hardware. We now opted for black, but in a few years, we can change it up for brass, chrome, wood or oiled bronze, and it will still look great. Longevity of the design, its ability to age well, was very important to us.
.
Worktops & backsplash
While I love the look and natural feel of marble, it wasn't an option for us because of the upkeep. Yes, yes… Patina is what makes a stone so beautiful, but I am the kind of clumsy person who finds a way to dirty a clean shirt by 9h30 in the morning… And I couldn't stand the thought of having red wine stains or etched spots from my morning lemon water within a week. So I wanted to spare me some anxiety and went for quartz instead. I am very happy with this stain-resistant (or "cath-proof", as the running gag goes) option, and I think it looks great. It reflects the light around the room nicely, and I like the contrast of the white and grey stone with the dark cabinets.
.
We chose to hide appliances. The fridge, dishwasher, microwave and wine cooler are all hidden behind doors. Only exception: Our Bertazzoni cooking range which is our statement piece.
.
.
.
As previously mentioned, going for IKEA cabinets allowed us to free up some budget for extras and upgrades. The solid slab backsplash is one of my favorite elements of the design, as well as the waterfall countertop. I also enjoy our numerous accessories like drawer lights, mats, cutlery trays, and dividers; all non-essentials that make daily use more enjoyable.
.
We painted the walls in Gray Owl from Benjamin Moore. The floors are from Unik Parquet. I found the hardware in Sweden, and the faucet is from Riobel, a local company. We found two gorgeous Soft Edge stools by Hay at Jamais Assez, a nice little design shop in Montreal. I needed lights above the island for the photo shoot; We used two Romeo Louis pendants from Flos we already had. I didn't planned on putting them up initially, but the look is growing on me!
The paintings is by me – Click here for more info.
Oh, and if you are curious, here are pictures from before we moved in:
If you'd like to know more about Kitch, check out their website! I highly recommend them.
Photos: Jolène Richer for Nordic Design
Disclaimer: This article was brought to you in collaboration with Kitch. I received a discount in exchange for visibility on my website. All words are my own. It is a company that I genuinely like and recommend. My partners contribute to the growth of Nordic Design, and I thank you for supporting them.
---