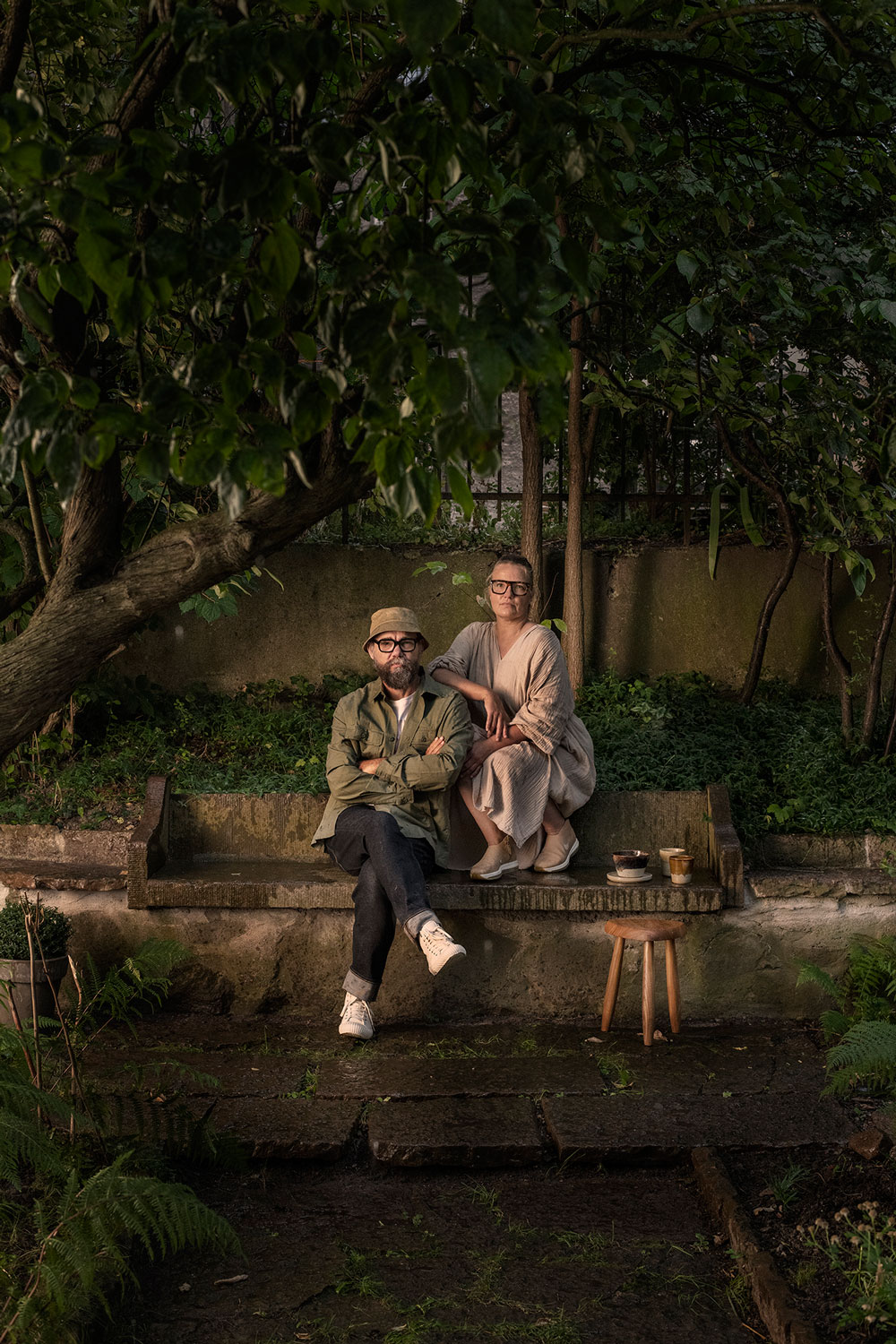 Photo: Andy Liffner
I've been looking for the perfect stool / occasional side table for a long time. But it was not an easy feat. I had several criteria, and I wouldn't compromise. It needed to be a versatile piece with a simple silhouette and a timeless quality, but interesting enough to elevate my décor; something well-made and crafted with care from wood in a sustainable way. Extra points if it was from a Scandinavian brand.
So when the most gorgeous little stool from Stockholm-based design duo ALL MATTERS / STUDIO showed up on my Instagram feed, it was love at first sight!
I immediately wanted to know more about this newcomer on the design scene and its founders, Fredrik Widén and Anne-Mette Krolmark, who joined forces to make "interior products that matter". They kindly agreed to answer a few of my questions.
Q: Tell us a little about yourself. Who are you, and what do you do?
Anne-Mette is an architect working with retail design on a global level, and Fredrik has massive experience in advertising. We come from different backgrounds, but we both worked for almost two decades with large-scale projects within global companies. When starting ALL MATTERS/ we saw the opportunity to turn the page and do something spectacular together: Producing great design while delivering high-end, quality products on a small scale, simply because we believe all really does matter.
From material choices to production methods, we are guided by a commitment to sustainability, aiming to minimize our impact on the environment and following a holistic approach for every design decision.
What does the name ALL MATTERS/ stand for?
Our name All Matters is a constant reminder to ourselves that every little detail really does matter. All decisions in the design process have consequences and that we as designers have a responsibility to develop products that justify the resources they are made of. The world is already full of too much thoughtless stuff. We don't want to go that way.
At ALL MATTERS/ we question the design and purpose of the products we do. We try to push our own limits as well as the companies we collaborate with. Always trying to find an even better, smarter, and more sustainable way forward.
How would you describe ALL MATTERS/ STUDIO's signature values and style?
We aim to design and produce products with a sustainable mindset and try to incorporate the flexibility of eg. several purposes of use and secure a long lifespan. We want to design items that are not just part of any trends, but cherished items that will last the customer a lifetime.
What inspires you creatively?
Living in Stockholm where both sea and virgin forests are reachable from the city center, I (Anne-Mette) as an architect and designer often find inspiration in nature. For instance, our color palette and mixed textures in our sustainable carpet concept W-Link 01 were very much inspired by the forest. But I get inspiration from multiple sources. It might be a material or piece of art I see on an exhibition, or something I find on Pinterest. Fredrik gets his inspiration often when doing something completely different, like when working on our old wooden boat from 1936.
How much do you feel your Nordic roots influence your designs?
Anne-Mette being Danish and Fredrik being Swedish, we like to think we have a Scandinavian design approach. It's in our DNA trying to keep things simple and pragmatic. And we see that we naturally reference our Nordic heritage in much we do. As a young architecture student, Anne-Mette designed together with a fellow student the boathouse for Alvar Aalto's boat. This was a major experience and milestone in my carrier as an architect, but it was when I moved to New York studying for my Master's degree in Interior Design at Parsons that I first really felt Scandinavian.
Your Wooden Link 01 is such a creative product – Where did the idea come from?
After talking about it for several years and starting our own design studio, the first product hitting the market was a sustainable concept for rugs WOODEN LINK 01 or W-LINK 01 as it is renamed.
The concept had been laying in the "drawer" for almost a decade since the first idea was born while Anne-Mette studied at Parsons in New York City. But we brought the idea to life and launched it last autumn at 3DaysOfDesign in Copenhagen. W-LINK 01 is a modular, sustainable system of rug units in various sizes, designed with the purpose to reduce the environmental impact.
The rugs are flexible and can be adapted over time which gives them a longer lifespan. The units can be linked together forming a unique rug constellation, and it can be quickly modified by adding or subtracting colors and pieces. Also, in case one unit should be damaged by accident you only need to dry-clean this part and not the entire rug. All rugs are hand-tufted on demand so we have minimum waste and no leftover stock.
We have curated a selection of 17 colors and qualities of yarn such as Merino wool and sustainable materials like Lyocell and Bamboo, which can be combined as desired. We're in the process of adding more colors to the palette as well as different forms to the rug units, making the possibilities virtually endless.
I absolutely love your Embla stool! I know you are launching a 'Faluröd' version soon – What prompted you to go for this unique color for your next limited edition?
We wanted to do a stained limited edition of the oak stool in celebration of the exhibition at Nuvole Design Store in Copenhagen this autumn. The choice of the Faluröd (Falu red) color came naturally to us. Faluröd is a typical Swedish color that's been around since the 16th Century. This color you'll still find on old wooden farmhouses in the Swedish landscape always with the contrasting white window frames. We wanted to bring something typically Swedish to the exhibition in Denmark, and at the same time to color the stools with something so typically Danish as red. The stools are painted with pigmented linseed oil. The pigment has to come from the copper mines at the area of Falun in order to be called Faluröd. Nuvole exhibition is from mid-august until October.
Do you have any special projects or exciting future plans? What's next for ALL MATTERS / STUDIO?
We will continue to make marvelous stuff that matters. Right now we are in the development of very different types of products, such as sustainable textile cleaning products, room scents, and a vegan leather interior item.
---
I can't wait to see what they have in store for us next!
To find out more about ALL MATTERS / STUDIO, visit www.allmatters.se or follow them on Instagram (@allmattersstudio)
First photo: Anne-Mette and Fredrik, founders of ALL MATTERS / STUDIO
---