During our visit to Copenhagen last weekend, we stayed at the Radisson Blu Royal hotel, which was on our wish list for a while now.
Designed for Scandinavian Airlines System (SAS) between 1956 and 1960, this is one of the top five-star hotels in Copenhagen. With its 20 floors, it is also one the only skyscrapers in the city center. It is only a few steps away from the train station, Tivoli gardens and Strøget, a major shopping district. Alberto K, the restaurant on the twentieth floor, is acclaimed for its cuisine and terrific view. Many dignitaries and rock stars picked this hotel when they visited the Danish capital: The Rolling Stones, the Beatles, Luciano Pavarotti, Tina Turner, and Oasis, among others.
The architecture of the building has been much debated in the past – and still today. Some may call it "old" or "dated" because not much has changed since the last 50 years… but whoever makes such statement misses the point. This hotel is a design icon which embodies perfectly what Arne Jacobsen was all about. It offers a fantastic and unique experience for architecture and Mad Men fans alike. It takes only a few step into the luxurious lobby to be immersed in the elegance of the late 50's, thanks to the seemingly free-floating staircase, leather Swan and Egg chairs, marble floors and rich wood walls.
We had a 'corner' room on the 7th floor with large windows and an amazing view over Tivoli gardens. The room was stylishly decorated with soft pastels and natural wood, with Jacobsen's Series 7 and Swan chairs. We had a huge, comfortable bed, in which we readily watched the TV channel dedicated to the hotel, its history and architecture. Impeccably clean and cozy, the bathroom had the same charm and uniqueness as the rest of the room. At night, we could hear the noise from the streets, but it was not a big deal – It was somewhat expectable for such a downtown location.
We were also well received by the friendly staff. We even got our own private tour of the hotel, and we caught a glimpse of room 606, with its aqua furniture and wood panels on the walls. It is the only room that has been kept in the original design, as Arne Jacobsen designed it. Going to the Radisson Blu Royal hotel is like going back in time, while being oh-so-modern at the same time.
We loved it!
Photos: Via Famoushotels.org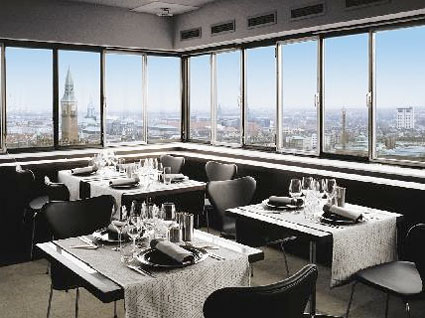 ---