Painter, graphic artist, ceramist and writer Mogens Andersen (1916-2003) was born in Copenhagen. He attended the P. Rostrup Bøyesen art school in 1933-39, as well as in 1952-59. Andersen was after the Second World War, one of the pioneers in Danish abstract art. He lived in France in the years 1959-65, where he taught at l'Académie de la Grande Chaumiere in Paris, among other things. He found inspiration in the art of Paul Cézanne, Henri Matisse and Georges Braque. His first exhibition dates back to in 1935.
His paintings are mostly characterized by dark, decorative abstract drawings painted with large, rough strokes. Despite black and very dark colors being predominant, there is something very amiable about the effortless, almost playful strokes.
"It is interesting to study the delicate interplay between structure and improvisation, and the rhythmic movement of strokes, which must reflect two important factors: the need for freedom and a sense of freedom must also have limits." – Gallery Profilen
His work is represented in numerous museums around the world, and especially at Louisiana State Museum of Art and Aarhus Kunstmuseums in Denmark. You can also sometimes buy his work on the online auction house Bruun Rasmussen.
Photos: Gallery Profilen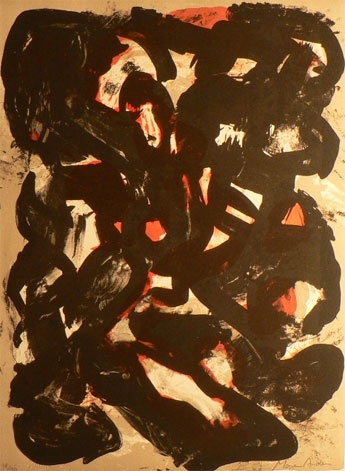 ---