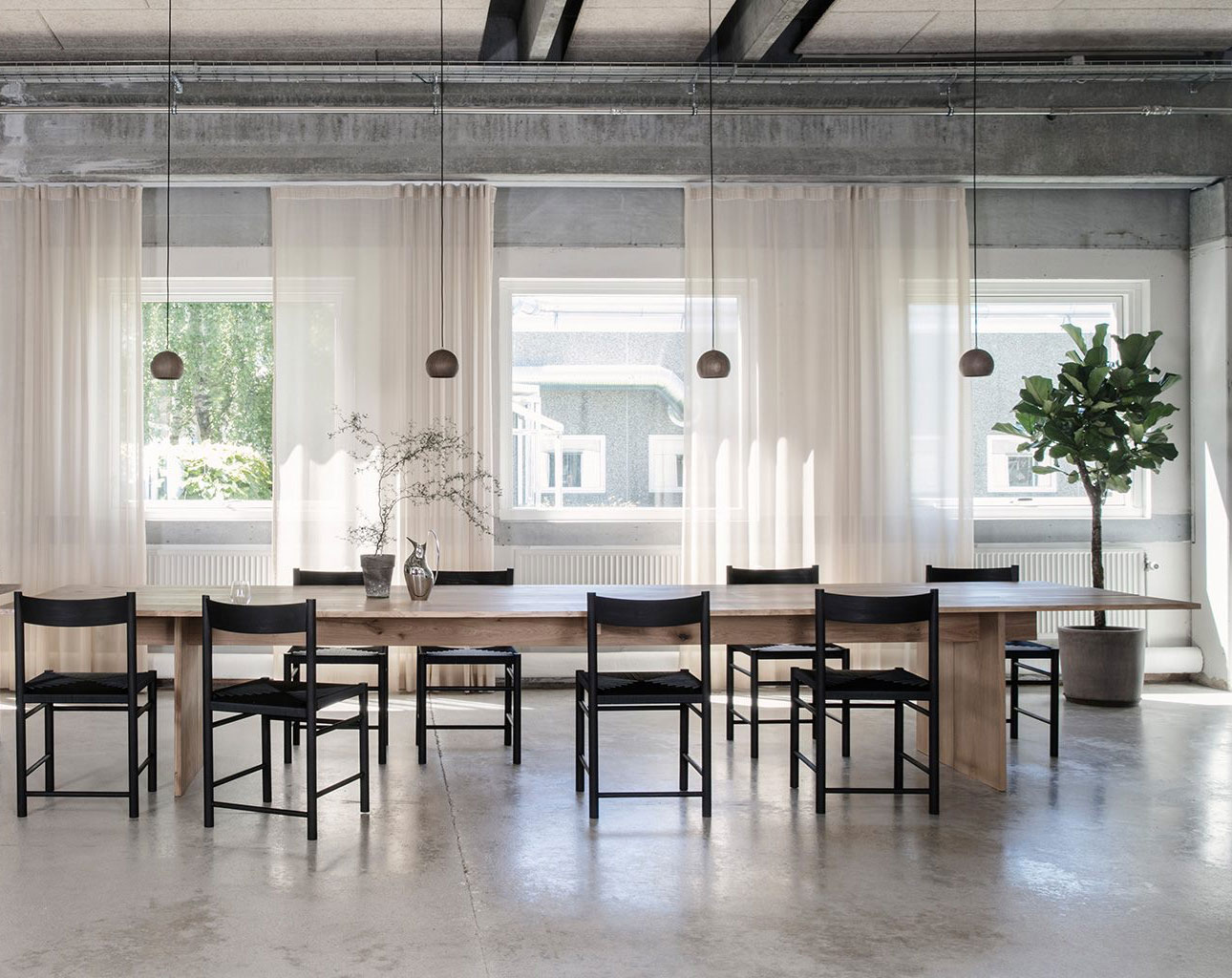 The F chair is a contemporary shaker chair based on the virtues of traditional craft. It carries on the folksy simplicity and honesty of the archetypical shaker chair, but with a modern comfort and a clean- cut, geometrical and minimalistic appearance.
Danish furniture artist/designer Rasmus Bækkel Fex and Brdr. Krüger have reinterpreted the design of the shaker chair in a close cooperation and shared aspiration to explore archetypes and materials with an open mind.
The outcome is a modern ascetic take on tradition, where wooden craftsmanship and woodturning skills are contrasted with a seat constructed from industrial polyester webbing, hand-weaved to create a bespoke geometrical pattern. The use of polyester showcases the subtle beauty of the industrial material, while the webbed seat changes character as it reflects the surrounding light.
The name 'F' refers to the chair's 'Folksy' origins, the designer's surname 'Fex', and a typographic interpretation of the chair's profile.
"I work in the borderland between art and design, form and function, and Jonas recognised the values and philosophy of Brdr. Krüger in my aspiration to explore archetypes and materials with an open mind. Together we have reinterpreted the design of the shaker chair, balancing tradition and modernity, and turning a conceptual artwork into a comfortable, usable chair. The F chair is a celebration of old crafts. It is born from innumerable prototypes and hands-on work at Brdr. Krüger's workshop, where we fine-tuned the simple construction to gain the right expression and feel."- Rasmus Bækkel Fex
About Brdr. Krüger:
"In 1886 the Krüger brothers Theodor and Ferdinand founded a woodturning company in Copenhagen.
Time has changed, yet the company's dedication to craftsmanship and passion for wood hasn't changed a bit. Brdr. Krüger was originally a woodturning workshop and has now become a self-producing design company where the commitment to quality and craftsmanship has been nurtured for five generations, ensuring the same high quality in every single piece that leaves the family-owned workshop.
Brdr. Krüger's design DNA is born out of the aesthetics of the mid-century Danish modern movement, reinterpreted for a contemporary audience. With a design philosophy that encourages originality, honesty and playfulness, Brdr. Krüger seeks to bring a new turn on tradition in close creative partnership with prominent designers and architects of the times."
Photos: Brdr. Krüger
SaveSave
SaveSave
SaveSave
---