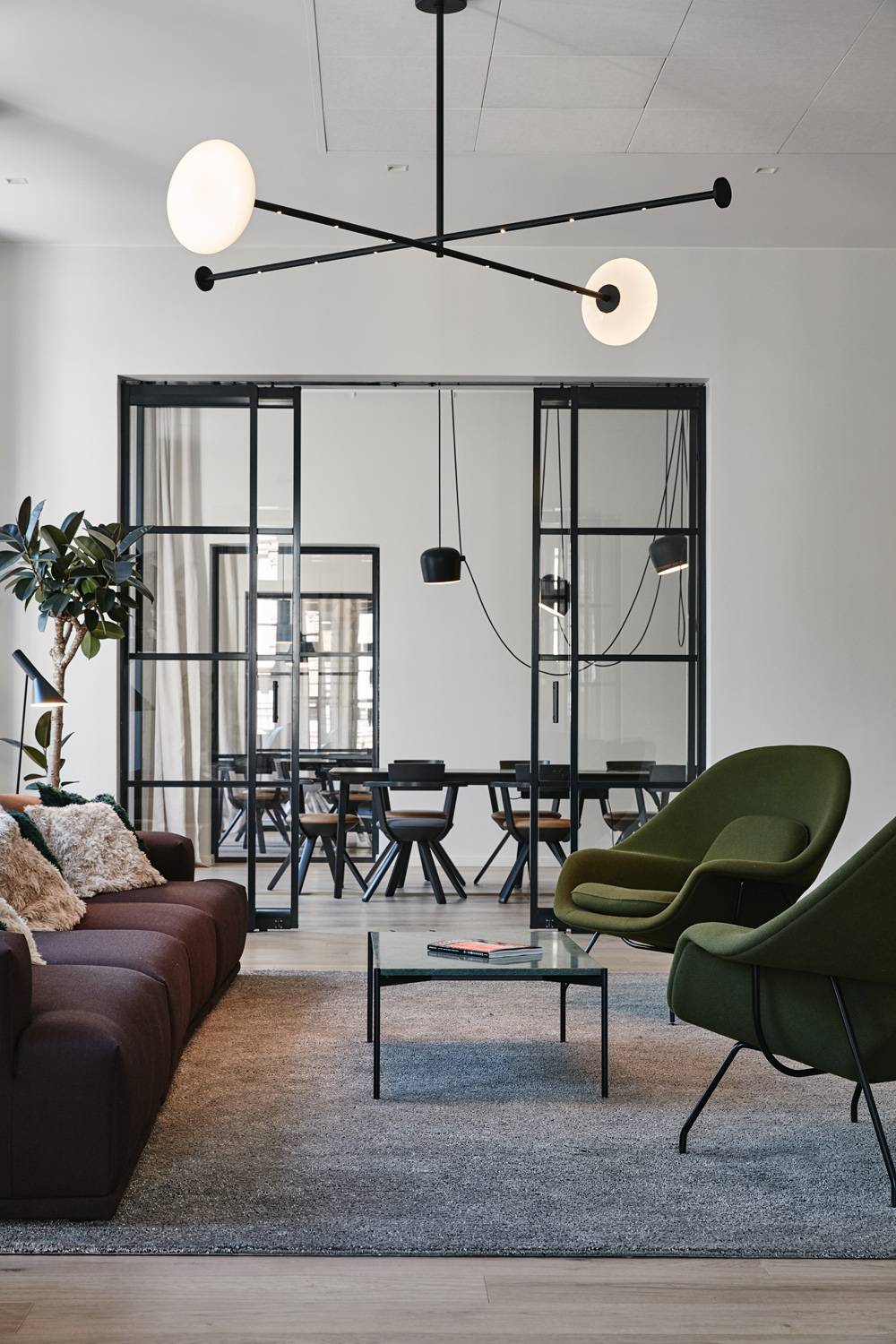 Warm, casual and welcoming, and even homey – These are not often the words that come to mind when thinking about a workplace. But this is exactly what talented Finnish interior designer Joanna Laajisto suceeded to do for Fjord in Helsinki. Comfort was a requirement for the company's new elegant office space that would also serve as a casual hangout for employees suitable for informal meetings and spontaneous collaborations.
Natural materials were used to soften the look and add warmth – The oak flooring, sisal carpets, linen curtains, etc. Lots of plants also add a domestic feel. The place was styled for creating an inviting atmosphere.
"Elegant, unconventional and human – those were the starting points of our design process," said Laajisto. "This is an office primarily made for employees to feel at home, and the wow factor for outsiders comes from what the space feels like, not merely from its looks. For me, the fact that people enjoy spending free time at the office is a sign of us truly succeeding in creating a homey work environment."
Conference rooms are separated from the rest of the office with sliding steel and glass partitions that allow the light to flow through the space while providing some privacy.
A fun detail: Phone booths lined with Kvadrat's acoustic Soft Cell panels were added throughout the office to limit distractions for important calls.
Most furniture and accessories are from Finnish brands or designers, including Artek, Eero Saarinen, Ilmari Tapiovaara, and Nikari, to name a few.
You can spot the beautiful PJ01 lamp designed by Laajisto herself and Pasi Kärkkäinen.
I'd work there in a heartbeat!
And I'm actually taking styling notes for my home… What a great space!
Photos: Studio Joanna Laajisto
SaveSave
SaveSave
SaveSave
SaveSave
SaveSave
SaveSave
---