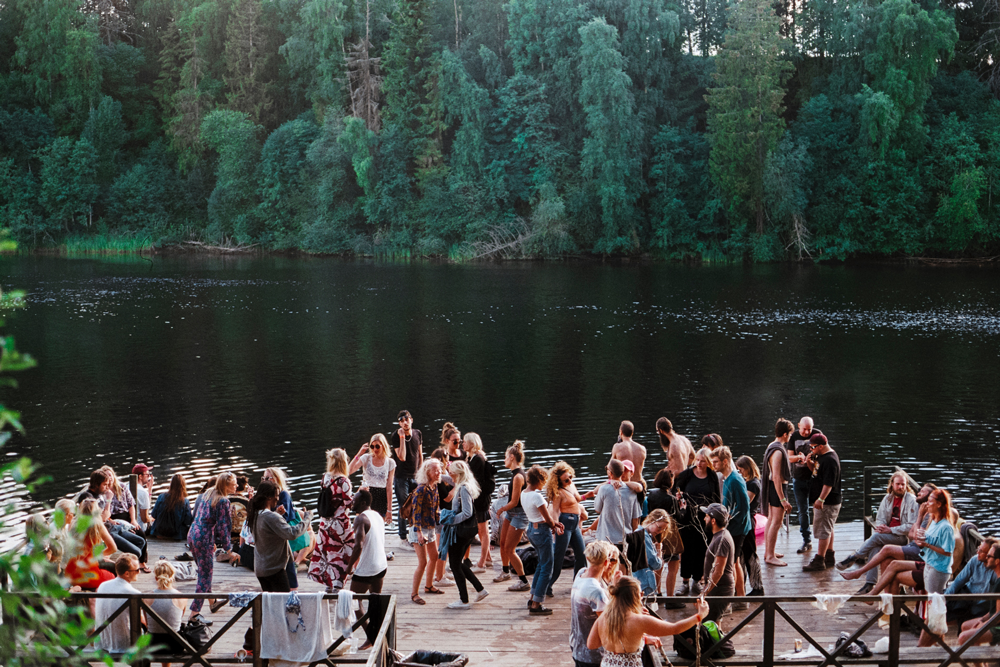 .
I'm dreaming of the warmer days ahead… Days spent at the beach, picnics and BBQs with friends, long balmy evenings on the balcony, and midnight swims – These are moments I love and look forward to every summer. And nothing sets the mood better than music, right? Thankfully, there are many outstanding wireless speakers allowing us to enjoy our favorite tunes outdoor, without headphones or the questionable sound quality from a smartphone. Oh, joy!
As a music and design lover, I'm looking for minimal aesthetic and great audio performance. I want a sleek and compact speaker that can easily be moved around the house or by the pool, and it surely helps if it has that Nordic look & feel. So I've curated a list of 8 stylish wireless speakers that meet those requirements; eight fab options for entertaining and relaxing this summer, all with Scandinavian influences.
See some specs & features after the jump.
.
1. Beoplay A1
This lovely little portable Bluetooth speaker was designed by Cecilie Manz. It is splash and dust resistant, and its compact size and leather handle make the Beoplay A1 ideal for when on the go. Part of the Bang & Olufsen family, one of Denmark's leading consumer electronics company, you can expect top-notch sound quality. It offers a whopping 24 hours of battery life, wireless pairing, and a built-in microphone. Plus, it is available in several stylish colors.
Size: 4.8 x 13.3 cm
Weight: 0.6 kg
Retail price: $249 USD
2. Zipp Mini by Libratone
The Zipp Mini multiroom speaker allows you to play music throughout your home using both wifi and Bluetooth. Its cover can be unzipped and replaced, to match your mood or the room. It boasts 360 Degree audio and up to 10 hours of uninterrupted play. It is compatible with Amazon Alexa and Spotify Connect, and it is available in several colors.
Size: 22.4 x 10 cm
Weight: 1.1 kg
Retail price: $249 USD
3. One Click by Libratone
What I like about the One-Click by Libratone is its size. Small as a paperback book, this Bluetooth speaker fits easily in a purse, the car's glove compartment (impromptu picnic, anyone?), etc. It is also water resistant, so you don't have to be afraid of unexpected pool bombs or raindrops. It has interchangeable hanging accessories, a hook and a strap, come included with the speaker making it easy to hang or attach anywhere. It also features a noise isolating microphone, and promises up to 12 hours of battery life. It is available in cloudy grey, graphite grey, cerise pink and Caribbean green
Size: 12 x 4 x 20.3 cm
Weight: 0.9 kg
Retail price: $199 USD
4. Addon T3 by Audio Pro
A reader kindly introduced me to this brand recently, and I fell for the Bluetooth portable speaker T3, the latest addition to the award-winning Addon series. With its 30 hours of battery life, the music can go on and on and on! A3 features a convenient handle and an aluminum casing with a durable hard-compound lacquer. Another perk is the integrated USB power bank, allowing you to recharge your phone when on the go. This neat little model will be available from June 2018 in warm orange, arctic white, storm grey, coal black and hunter's green.
Size: 11.5 x 21.5 x 13.5 cm
Weight: not available
Retail price: $249 USD
5. Lotsen by Urbanears
Urbanears is a Stockholm-based company is known for its products in cheerful hues offering decent sound performance without breaking the bank. Recently launched, this multiroom Bluetooth speaker Lotsen features a sleek contemporary design with "real knobs", for a nod to the past. The casing is fabric-wrapped and is available in green, orange, grey, black, dark blue and pink. Lotsen is the smallest of a series of three, so you could also get a bigger one and pair them together.
Size: 19.3 x 11.5 x 17.2 cm
Weight: 1.86 kg
Retail price: $215 USD
6. Beoplay P6
The latest addition to the Beoplay family, the P6 is a new premium portable Bluetooth speaker by Cecilie Manz. It promises the Danish brand's True360 signature sound quality and performance. The pearl blasted aluminum casing is splash and dust resistant, and is available in silver or black. It features a microphone for calls and access to various voice assistants. The OneTouch Button enables you to access voice assistant, accept calls and use ToneTouch presets. It has a battery life of up to 16 hours.
Size: 17 x 13 x 6.8 cm
Weight: 1 kg
Retail price: $339 USD
7. Helsinki by Vifa
This portable Bluetooth speaker by Danish audio company Vifa won a Red Dot Design Award in 2016 for best product design. It is made of quality Kvadrat textile, polished aluminum, and leather from Tärnsjö Garveri. A travel bag is included, perfect for when on the go. It is available in willow green, misty blue, dusty rose and sandstone grey.
Size: 15.6 x 21 x 7 cm
Weight: 1.4 kg
Retail price: $480 USD
8. HAY x Sonos
Danish design house HAY collaborated with Sonos to create a series of limited-edition speakers. The smart speaker, Sonos One, a model already on the market for a while now, was launched during the Milan Design Week 2018 in an exclusive color palette. It is my understanding that five colors will be shown during the event, but only three will be sold – red, green and yellow. The speaker will be available in September. It is not portable, but it is humidity resistant which makes it a great option for a balcony or terrace. It also streams over wifi, not Bluetooth, for uninterrupted music even when you get a phone call. Sonos One can be mounted on a wall or a stand. More info here.
Size: 16.1 x 12 x 12 cm
Weight: 1.85 kg
Retail price: $229 USD
Have you tries any of them? Do you know other great brands and models you'd like to share? Don't hesitate to let me know in the comment section below.
* Disclaimer: This post contains a few affiliate links, meaning that I make a dollar or two with every purchase.
SaveSave
SaveSave
SaveSave
SaveSave
SaveSave
SaveSaveSaveSave
SaveSaveSaveSave
SaveSave
SaveSave
SaveSave
SaveSave
---