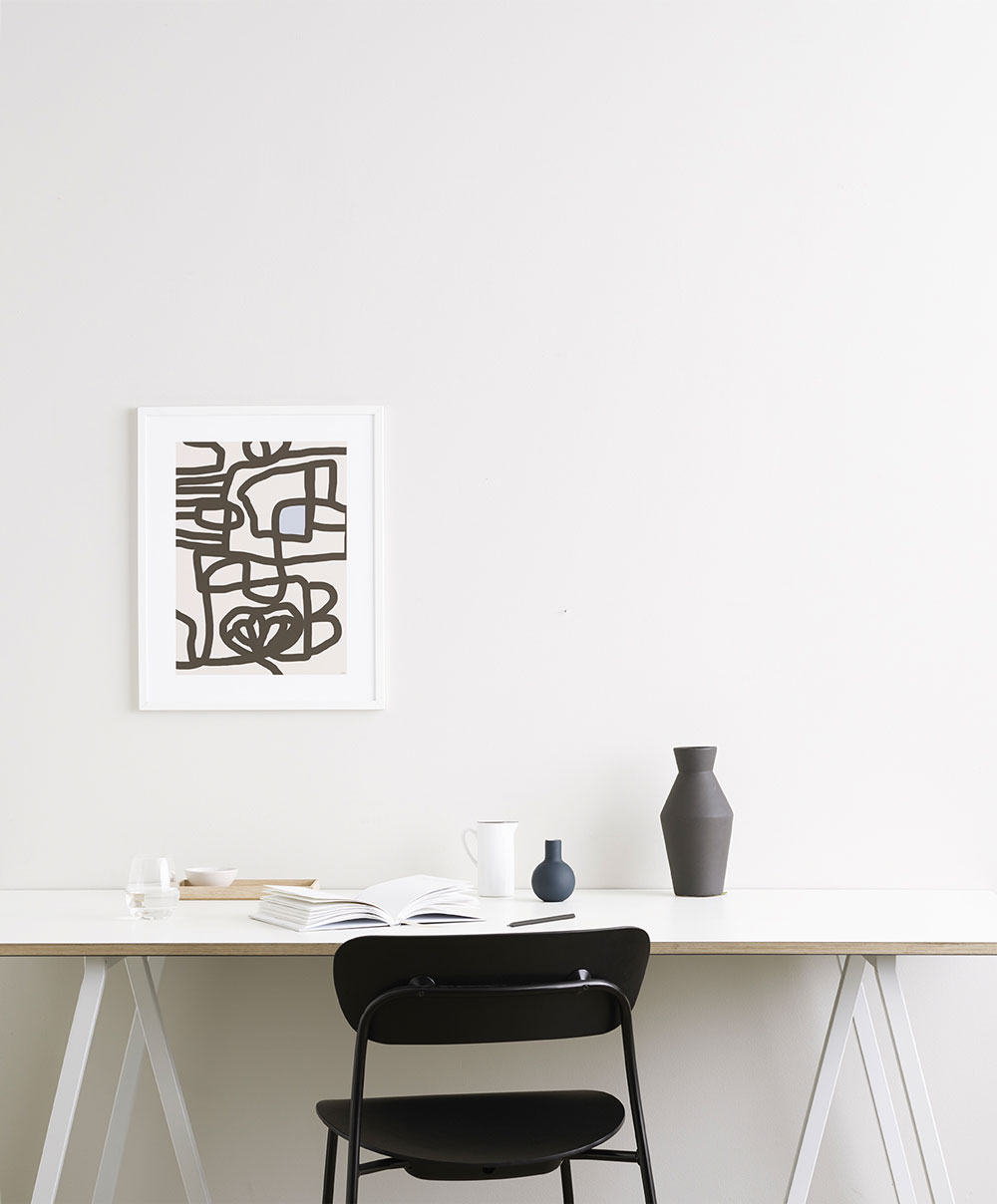 A passion for graphic design and colors is what led Lisa Wirenfelt to explore the world of art a few years ago. The Swede built up the confidence to show her pieces only recently, and I am very glad she did! She paints abstract lines and naive shapes, following her intuition and what "feels right".
I discovered her work while browsing the site of The Poster Club and I was keen to know more about this young artist on the rise.
Here, she kindly agreed to answer my questions.
Q: Tell us more about yourself. Were you always interested in art? How did you decide to become an artist?
A: Well, yes and no. I loved to paint when I was a child, but always felt like I had no talent. So, I stopped painting and just felt extremely satisfied when I saw beautiful buildings and extraordinary design. But simply felt like I was unable to create it myself. The reason why I started again, is actually because of two persons; my crazy Russian art history teacher who took me all over New York to show me the greatest artists of all time and also, it was because of my mum. Being a creative soul and a former fashion designer, her opinion meant the world to me. When she saw one of my illustrations and said that she liked it I felt like I was accepted in the world of creatives. After that I basically just got going and later on, my friends suddenly wanted to buy motifs, so I bicycled all over town to friends and family with new paintings. And then I got discovered by great platforms like The Poster Club.
Q: Did you study art? How did/do you develop your talent?
A: Yes, but only a course in art history in New York. So, my art isn't really correct, it's more about my gut feeling, I guess. My mum gave me her old Wacom tablet as a Christmas gift and the same night I created 30 motifs like a crazy person, haha. After that I was truly in love.
Q: Best thing about being an artist / why do you love what you do?
A: Because often in my daily life I feel like I need to do things the right way and it can make me quite stressed. When I paint, I am the one who decides what's right and what's wrong. It's just this beautiful process where I simply create what comes to mind and decide when it's finished. So, it's more like I paint for myself and then other people seems to like what I do. And that's pure luxury for me.
Q: Where do you find inspiration?
A: Buildings, color combinations and patterns. Sometimes when sitting on the subway, sometimes from watching a movie and sometimes from seeing an old lady with a great outfit. Inspiration is everywhere if you just know how to use your eyes to the fullest.
Q: Can you tell me more about the process of making your work?
A: Often something catches my eye, and then I photograph it either on my phone or in my mind. And when I get in the mood (often when I listen to old jazz or anything with Billie Holiday), I just get started. Often, I make a "bad pancake" at first, and toss it away, (not to be the mixed up with the boyfriend metaphor), but from there I usually create something I like and try that motif in different compositions and then I sometimes ask my mother which one she prefers and why. After that I watch the motif for a while and come up with a little story about it.
Q: How would you describe your style:
A: Warm colors, bold lines, and often a quirky story. I usually find myself painting women or abstract lines. I'm still in an experimental phase and haven't really landed in a certain style just yet. I love being in that phase. Maybe I want to keep it that way.
Q: How would you define beauty?
A: Beauty is a feeling. My eyes are seeking this beauty every day. Often, I find myself seeing beauty where some people never even look. It's like I have an ongoing treasure hunt with myself.
Q: Dream subject/assignment/collaboration?
A: Wow. I would love, love, love to make collaborations that includes other types of products, like mugs, plates, lamps, chairs, vases, clothes, album covers, book illustrations, you name it. That would be my dream, to make the world a bit more colorful. If you're reading this and would like to do this together with me, don't hesitate to contact me.
Q: Are there artists that you look up to, that are influencing you?
A: How basic it even seems, Matisse is my favourite artist. I just love the warmth and the playfulness in his motifs. I also adore Ilse Crawford, I think she has a great sense of style and always have a thought in everything she does. She is just amazing and a true inspiration for many women, such as myself. Working for her is a dream of mine.
Q: What is your favourite place to see art in Scandinavia, and why?
A: Well to me, Stockholm is a city that's a piece of art itself. Just strolling around in the city is a satisfaction and inspiration to the eye. The buildings, the water, the boats, the stylish people. Go there in spring and just walk around. Monica Zetterlund even wrote a song about that. If you need to be inside, I would recommend Carl Eldh, Moderna Museet, Nationalmuseum and Louisiana in Denmark.
Q: What advice would you give to a young artist following in your steps?
A: Just get started. And dare to be proud of your art. And many things will follow.
Q: Any special projects at the moment?
A: Yes, as a matter of fact I have some plans of doing a more exclusive collection. And some exciting collabs. I feel like this dream just got started and can't wait see where it takes me.
Follow Lisa on Instagram, here.
For more interviews with talented people, have a look at this section.
Photos: via The Poster Club
---