Richard Lindvall is a 38-year-old Stockholm-based interior designer with a passion for everything creative! he is the master mind behind stunning projects such as Restaurant Museet and cafe Snickarbacken 7, among others. In 2014 he won a World Interiors News award which was held at the Saatchi Gallery in London in the category Restaurant Interiors for Restaurant & Bar Nazdrowje. It's with great joy that Richard agreed to answer a few of our questions. We truly enjoyed getting to know this talented man, and we're sure you'll do too!
1. Tell us more about yourself. How did it all started?
"I grew up in a large house from the late 1800's outside Stockholm, in a very creative family. My father was a photographer with a studio at home, and my mother was very talented and interested in creating beautiful homes. So my interest in interior design has always been there.
I started my own company with a focus on interior design after completing my studies in advertising. This was nine years ago. My first assignment was to design an apartment for a friend, and from then on it became bigger and bigger projects.
Photo: Richard Lindvall
2. Best thing about being an interior designer:
In addition to the luxury of having a job that is also my passion, I would say that working together with my clients helping them to create their visions is pretty great.
3. Complete the sentence: "When I feel uninspired, I…"
I am going away on a weekend to a city I have not been to before.
Photo: Richard Lindvall
4. Best styling tip:
When working on a project with a relatively small budget, I keep a fairly neutral base and put the focus on one or two elements. For instance, when I did Restaurant Museet, I bought a real tiger skeletons from a Swedish zoo which I placed in a showcase stand. The skeleton was expensive, but I did not have to spend much more money, time and energy to decorate every inch of the remaining area. A stunning focal point does the trick.
Photo: Richard Lindvall
5. Any special projects at the moment?
Right now I am responsible for a new restaurant concept in Stockholm that will go under the name USINE (French for industry). The project includes an International Bistro, a bar, a cafe, takeaway and conference rooms. The style is industrial minimalis with touches of light gray concrete, black-lacquered steel, white tiles, Carrera marble, Ash wood and cognac-colored leather. This is the largest project I have had so far with nearly 2,000 square feet to work with, so it feels both exciting and a little scary at the same time.
I'm also turning an old embassy in Stockholm into a private apartment where the client has given me a lot of freedom. This has resulted in a giant bathtub in concrete, a kitchen in light gray Valcromat, as well as wardrobes and a kitchen island covered in brass. It's nice when clients fully trust you :-)
Photo: Mikael Axelsson via Emma's blog
6. You, in three words:
Creative, perfectionist, entrepreneur
7. What advice would you tell your younger self if you could?
Any person working in the creative field has a lot of his/her ideas and has a lot to say about it, so it is important to trust your own instinct. Also, you don't always have to study for the profession you are actually going to work with. I am self-taught in my field, with a diploma in advertising. This however has helped me a lot in the way I think in the concept and interiors I create.
Photo: Richard Lindvall
8. Dream assignment:
I have always dreamed of turning an old round gasometer in rusty steel into a living area. I spotted an old round clock outside Stockholm that would be perfect! It would have an elevator in the middle of the house and then I would cut out the window and keep the rusty finish around.
9. What can't you live without?
Concrete and my family :-)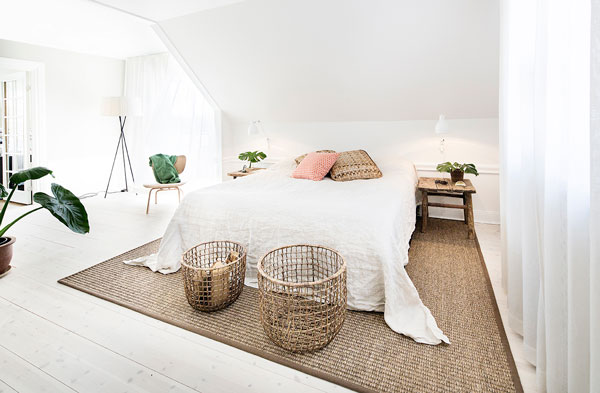 Photo: Richard Lindvall
10. If you could invite somebody for dinner, famous, dead or alive, who would it be and why?
I have always admired the Sri Lankan architect Geoffrey Bawa. I have a fondness for jungles and his way to implement them in his minimalist architecture – It really impresses me. Had he lived today, I would love to sit down in his home in Sri Lanka and hear him tell his life story.
Photo: Richard Lindvall
11. Best Scandinavian city and why:
Copenhagen is a lovely, easy-going and eventful city. I've always liked Danish architecture as they often manage to build quite simple houses that looks really great and with smart solutions. They are also not afraid of using colors in details in a very nice and subtle way. It takes less than an hour to fly there from Stockholm and you can easily get into town by train, which you can reach without having to leave the airport. Very practical!
Photo: Richard Lindvall
12. Something on your bucket list:
That would be to design my own house somewhere in the Stockholm archipelago. The hard part would not be to design the house itself, but it would be to find the actual ground where it should be built. Obviously, concrete would be an important material, but also wood. I would not have any art on the walls and would instead let well-placed windows frame the nature outside.
Photo: Richard Lindvall
13. What is your all-time favourite design piece(s)?
I have absolutely fallen in love with the Danish company Overgaard & Dyrman and its Wire Chairs series. They won a WIN award in the category Furniture for the lounge chair."
For a great dose of stunning interiors, make sure to check out Richard's portfolio!
…
---