Not a member of the Nordic Design Insiders Club yet? Join us before doors close on June 3, 2020!
Danish design firm Space Copenhagen is behind the glamorous yet casual interior of the 11 Howard Hotel in SoHo, New York City. It has a residential feel, meant to be comfortable and to create a relaxed atmosphere, but it is also smartly curated with sophisticated pieces, textures and materials. Think velvet, leather, linen and sheepskins, mixed with marble, oak and brass elements, in a palette of subdued burgundy, grey, sand, navy and pink – Beautiful!
The bedrooms are pleasantly bright, while the commune area are moodier, with an understated opulence.
Scandinavian design can be spotted throughout the hotel. You might recognize the Fly sofa and lounge chairs from &Tradition, a creation of Space Copenhagen, among others.
Artwork from contemporary artists adorn the walls and ceiling of the place: Prints by a Japanese photographer, wall sculptures by ceramist Katie Yang, hand-painted murals on silk by fashion designer Holly Fowler, as well as a large mobile by Alexander Calder..
"At 11 Howard, the timeless DNA of Danish minimalism is fused with New York realness. The resulting aesthetic is characterized by natural materials, subdued colors, and painstaking craft. Throughout the hotel, bespoke furniture and meticulously curated art objects subtly frame the guest experience."
Visit it here:
11 Howard Hotel
11 Howard Street
New York, NY 10013
+1 888 296 5111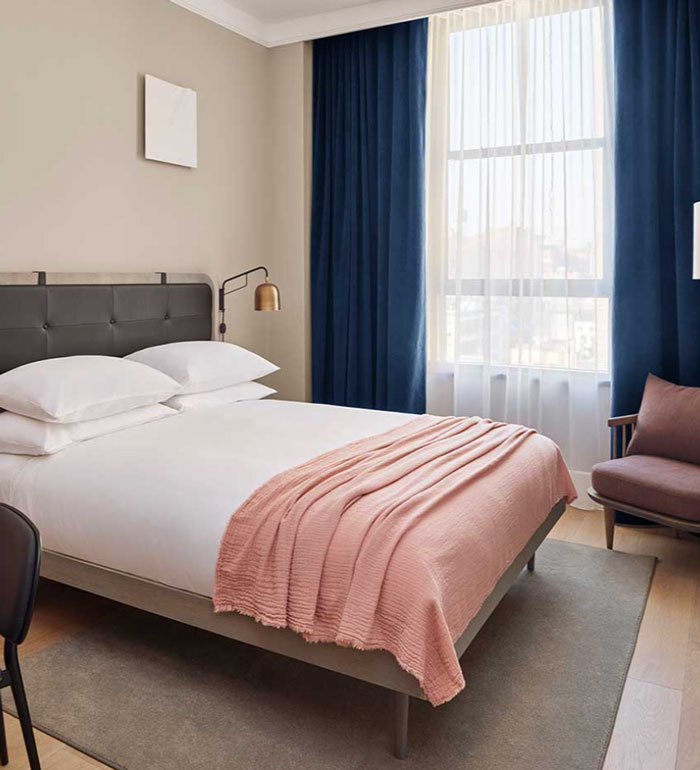 Photos: 11 Howard Hotel
Hey! See that bookmark button just above? This is one of the many exclusive perks of being a member of the Insiders Club! Doors close on June 3, 2020 - Don't miss out!
---