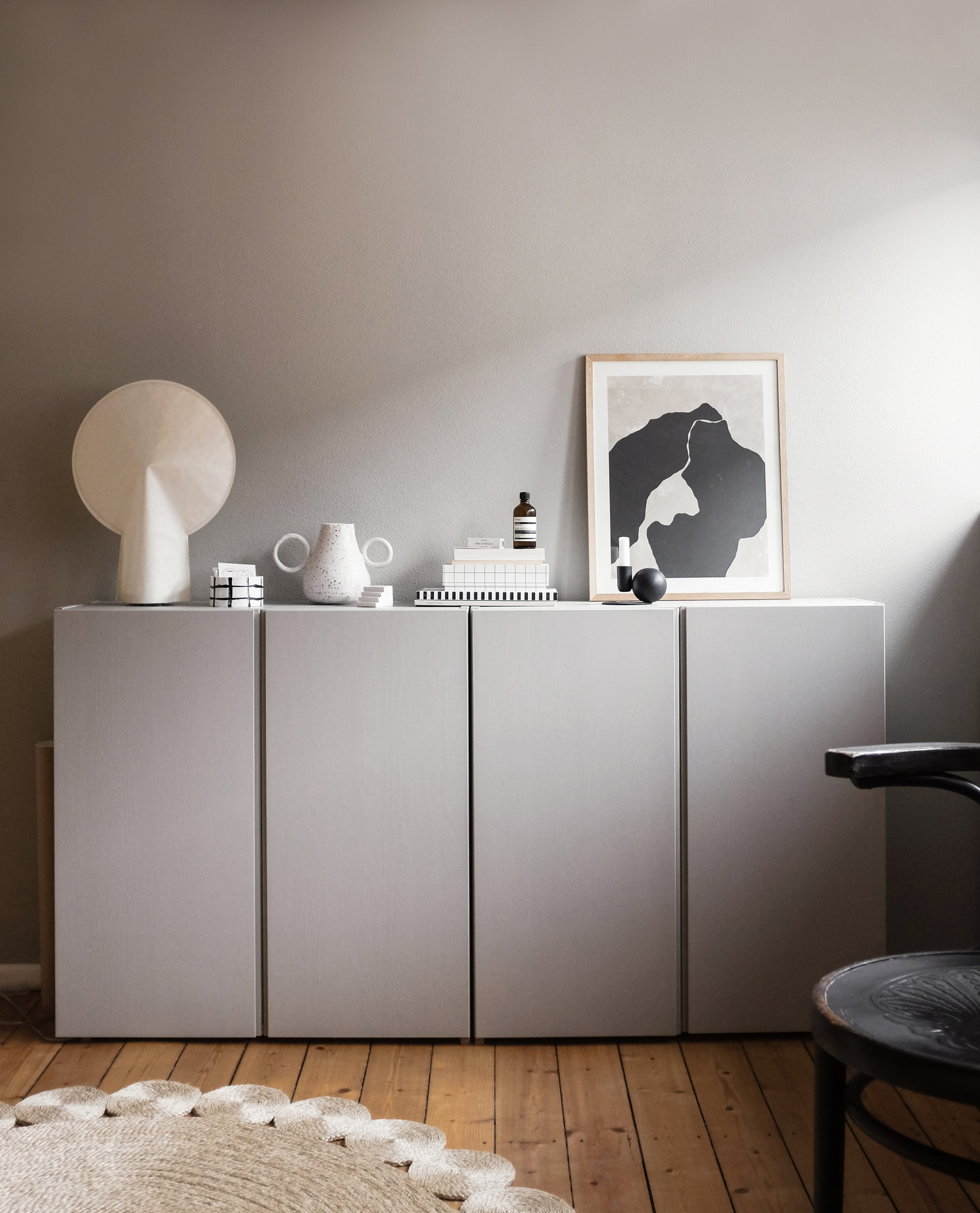 Throughout the years and after featuring hundreds of homes on Nordic Design, one thing I noticed is how Scandinavians have mastered the art of combining high and low decor. You'll often see an expensive designer chair right next to a bench or a coffee table from large international and more affordable retailers. It doesn't clash or looks like an interior design faux pas; it is effortless. In fact, you would be surprised to find out how many things actually come from Ikea, if I were to point them out while looking at each picture of a Nordic home tour.
But there are three things that should definitely be on your radar; three inexpensive products from the Swedish company that everybody should know about. They instantly elevate a decor AND they are great storage solutions, too. Function and style are always a winning combination, and who could resist these price tags when the end results look this good?
Here they are!
---
1. The Bestå series
Ah, the Bestå! I've used it in countless interior design projects. It is actually one of my favorite furniture pieces ever because it is affordable and can look oh-so chic! And nowadays, there are many companies out there offering fronts, panels, legs and handles or pulls to customize your Bestå and give it unique look.
At home, I have three units like this one, next to each other, creating a sleek, long and stylish cabinet under my TV in the living room. I've styled it with a beautiful table lamp, a few piles of books, an painting… It doesn't need much more to look elegant.
— > Bestå frame, 47 1/4 x 15 3/4 x 15″ (120x40x38 cm) for $55 USD
---
2. The Ivar cabinet
This plain pine cabinet has been in production for over 50 years! It is a favorite in Scandinavia because of its versatility. It can be used on its own, but also combined with other pieces to fit your needs. Ikea also offers a 3-drawer chest, a foldable table and shelving units in the series, so you can really make it your own.
You can keep it natural, stain it or paint it (same color as your walls or in a shade that stands out), add knobs, change up the legs or don't put any, hang it on the wall, dress up its doors (like this), add stone slab or tile on the top, etc. The possibilities are endless!
And because it is easily customizable, you can keep it around for years – A new lick of paint and you've got a new look!
— > Ivar cabinet with doors, available in 32x12x33″ (80x30x83 cm) or 32x30x33″ (80x50x83 cm), starting at $70 USD
---
3. The picture ledge
Picture ledges are great for a hallway, an entryway, a kitchen, a bedroom, a living room… basically anywhere! I use them a lot in interior design projects to create one long shelf across the room for above a bed, in the kitchen or in a hallway, or I use four of them equally distributed vertically to fill an empty wall in an office or a living room, for instance.
To make it look custom and high-end (and not something that screams "Ikea!"), I recommend painting the ledge(s) the same color as the wall. Also, steer away from using the shortest length available or a combination of a short + long ledge, and if you are tempted to try a Z-shaped design or a random motif, just don't… Keep things nicely aligned, straight, and simple. No need to be creative with the positioning; it's what will be on the shelves that matter.
— > Mosslanda picture ledge, 45 1/4″ (115 cm), available at pretty much every Ikea worldwide, for about $15 USD per piece.
---
If you are using these products in your home, do not hesitate to share a picture on our members-only Facebook group!
I'll also make sure to add images to this Pinterest board for Ikea hacks if you are interested to see more images of how to use these pieces into your home.
First photo: Swantje Hinrichsen
---