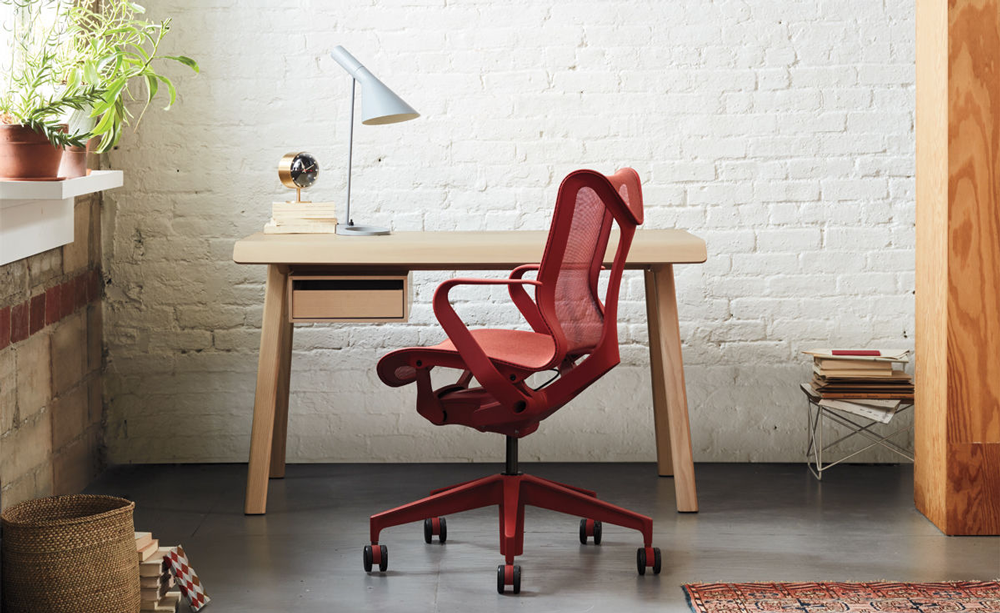 I am wrapping up the Design Your Home Office series (for now ;)) with a roundup of stylish desk chairs, and a few pointers on what to look for.
The ideal desk chair is one that offers the perfect balance of functionality and style, within budget – And finding the right one is not an easy feat!
Note that most chairs listed below are also available in different colors, with higher/lower back, with/without armrests, with/without swivel bases or wheels. I'm sure you will find one that fits beautifully in your home decor while providing you with the functionality you need.
Desk chairs
Because sitting for long periods of time isn't good for your health, a chair designed for everyday workspace use is crucial.
Good lumbar and pelvic support improve posture and breathing, reduce back pain, prevent heart disease, diabetes and some cancers, and improve mental health and productivity.
You need to pay careful attention to your chair's ergonomic adjustments to better suit your body, movement, and posture, and to provide all-day support and flexibility:
– Seat depth adjustment
– Seat height adjustment
– Adjustable lumbar support
– Adjustable armrests
– Adjustable swivel and tilting options
Ultimately, you first have to assess your needs and pick what is right for you.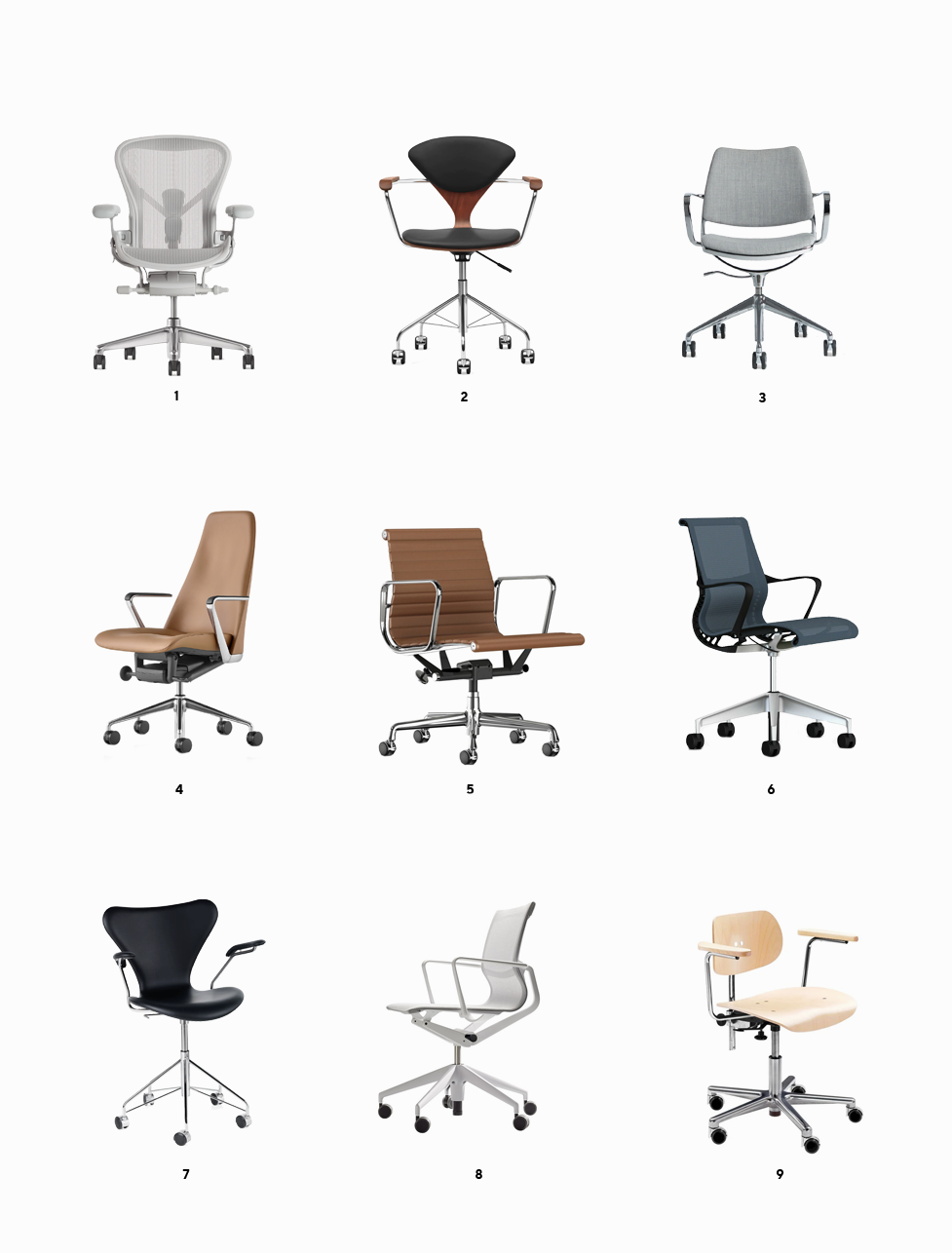 1. Aeron chair from Herman Miller
2. Cherner task chair from Cherner Chair Company
3. Gas task chair from Stua
4. Taper chair from Geiger
5. Eames Aluminum Group chair from Herman Miller
6. Setu chair from Herman Miller
7. Series 7 Task chair from Fritz Hansen
8. Cosm chair from Herman Miller
9. Egon Eiermann S197R office armchair, Please wait To Be Seated
High-back chairs with headrest
Good to remember: The higher the back on a chair, the better the amount of lumbar support it provides.
High-back office chairs with headrest can be quite comfortable, especially if you are tall. However, stylish options are not easy to come by, as pointed out by Willi in the community recently. Below you will find a few beautiful picks.
A tip: You can expand your search by looking for executive chairs or conference chairs. Note that the latter are not designed to be used for eight hours a day, several days a week, because they usually have fewer adjustment options than office chairs. But they make up for their lack of adjustability with aesthetic appeal.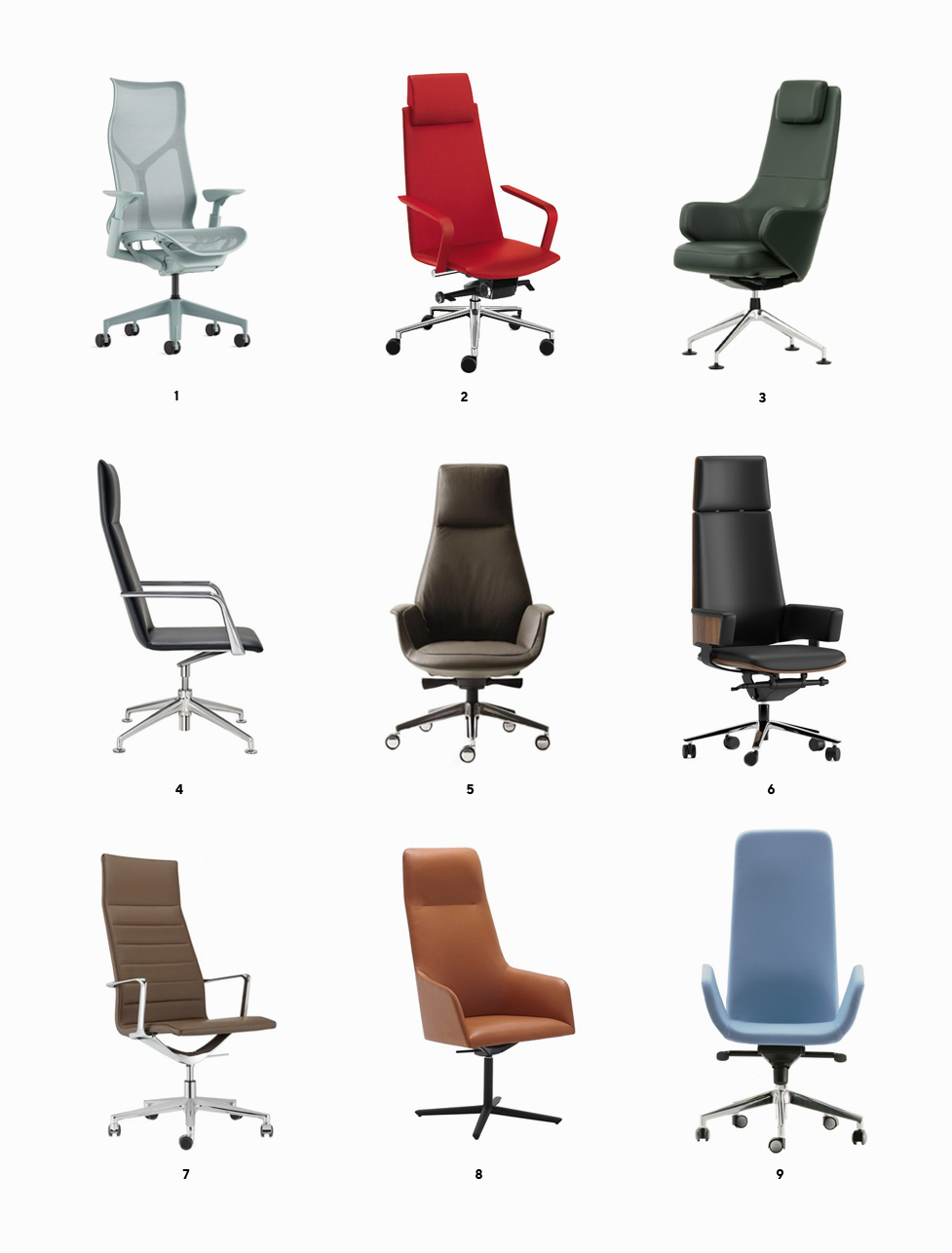 1. Cosm Chair from Herman Miller
2. Mode chair from Sesta
3. Grand Conference highback chair from Vitra
4. Finasoft High Back Exec chair from Brunner
5. Downtown President high back executive chair from Poltrona Frau
6. Carna executive armchair from Ersa
7. Valea Elle chair from ICF
8. Alya Executive SO1491 from Andreu World
9. 2279 Lord armchair from Zanotta

Desk Chairs Below $500
If you've looked at a few options listed above, you might have noticed that a "good", quality ergonomic desk chair doesn't come cheap.
The more features and adjustment options a chair has the more expensive it will be. And then you have virtually endless materials and finishings to choose from, and it can quickly add up…
So I've rounded up a few chairs that you might find interesting if you are on a budget.
With their swivel base, they are slightly more versatile than your usual dining chair, allowing you to move around and access the filing cabinet or printer without having to get up. Some models below are adjustable, and might also provide great(er) lumbar support without breaking the bank, too.
1. Fiber side chair with swivel base from Muuto
2. About A Chair AAC14 chair from Hay
3. Rely HW21 chair from &Tradition
4. Radius Task Chair from Gus* Modern
5. Hyg chair with swivel base from Normann Copenhagen
6. Hattefjäll office chair from IKEA
7. Graham brown desk chair from Crate & Barrel
8. Kevi air swivel chair, By Engelbrechts
9. Elefy JH32 Swivel chair from &Tradition
---
Important to remember: No matter how good your office chair is, sitting all day isn't good for you. To avoid strains, make sure to listen to your body, take frequent short breaks throughout the day, and stand up when you can.
If you'd like me to help you find an alternative product and/or a retailer near you, leave me a comment below or in the community, and I'll happily get back to you.
First photo: Herman Miller
---