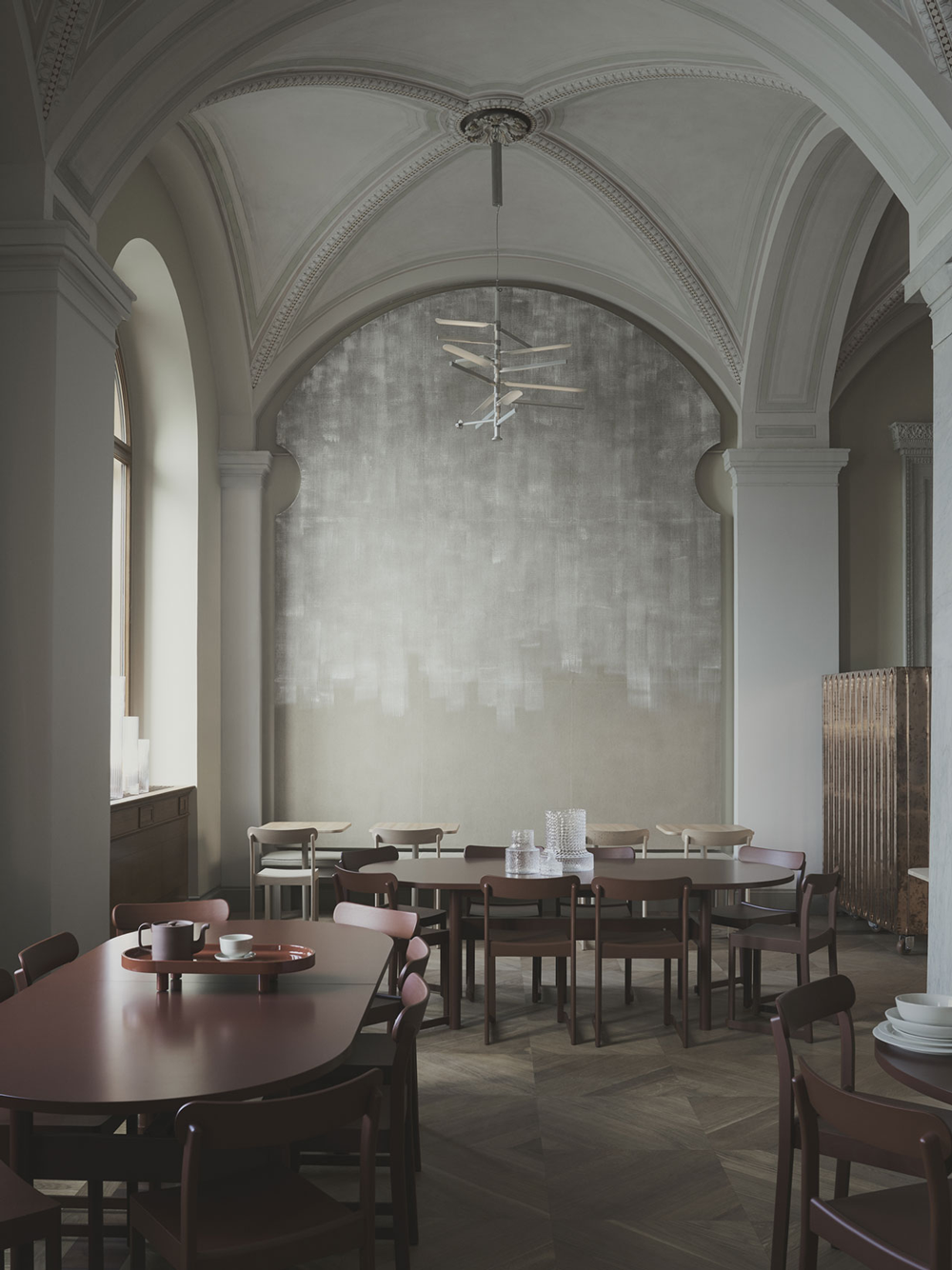 After five years of extensive renovation, Stockholm's National Museum of Fine Arts has finally re-opened, unveiling a beautiful modernization. Located on the waterfront in a neo-Renaissance building from the 18th century, Nationalmuseum is now elegant and contemporary yet cool and easy-going, and highlights beautifully the extensive (and Sweden's biggest) collection of classic art.
The museum also now houses a 300-seat restaurant and café for its visitors, utilizing three expansive galleries previously closed to the public. For this project, Matti Klenell, TAF Studio, Carina Seth Andersson and Stina Löfgren led a collective of 32 designers and 21 manufacturers to create a range of furniture, light fittings, tableware, and other decorative objects. The new collection, called "NM & – En Ny Samling" (which translates to NM & A New Collection), is entirely made by Nordic brands, craftsmen and artists: Design House Stockholm, Artek, Skruf, The Glass Factory, Gärsnäs, Stina Löfgren, Marie Dahlstrand, Finn Öhlund, and Annalena Pääjärvi Öhlund, to name a few.
The new items created for the restaurant will be presented at Stockholm's Furniture Fair in February.
"It is exciting that the Nationalmuseum has taken an active role in this way to not just collect Swedish design history but also to create it through a collection created by contemporary designers and producers as an imprint of Fall 2018 when the museum re-opened. Nothing in the collection has been created exclusively for the museum. We want to reach, and know that most of the objects will reach, a broader market in some form. Many of the objects will be launched in the producers' stands at Stockholm Furniture & Light Fair, making it even more exciting to bring the collection together in an exhibition," explains Matti Klenell, designer and initiative-taker behind NM & A New Collection.
The new collection consists of more than 80 gorgeous new pieces, with each one given an archive code similar to a museum inventory number – NM& 001, NM& 002, and so on.
"Each product in the NM& collection has a sometimes messy but always well-documented pedigree around its origins, and just as we hoped somewhere at the beginning of our journey, the overall final picture of a place, our place right here, right now, is just as motley and unpredictable as we hoped it would be".
You can visit the museum for free, except for special exhibitions.
Nationalmuseum
Södra Blasieholmshamnen
Stockholm
Phone: +46 8 519 543 00
Photos: Pia Ulin
---