In the middle of Helsinki and next to the Market Square, you can find the Old Market Hall. Opened to customers since 1889, this place is protected by the National Board of Antiquities. It was recently renovated, which attracted several new merchants.
One of the most interesting newcomers is without a doubt Restaurant Story. It is located in the high-ceilinged middle section of the hall, and a few impressive restaurateurs behind are behind this new eatery: Anders Westerholm, Matti Sarkkinen, Markus Hurskainen and Teemu Aura. All sharing a love for the handmade and top ingredients, they came up with uncomplicated and fresh food prepared on the spot, at the Market Hall. You can have breakfast, lunch, coffee and sweet treats (from Teemu and Markus' bakery), as well as dinner during the weekends.
The elegant and stunning interior was designed by Joanna Laajisto Creative Studio.
The look is modern, but comfortable. It works very well together with the surrounding architecture, which was important to Laajisto: "Story's interior is an homage to the original feel and history of the market hall, but placing it in a new time with a modern yet relaxed twist. The challenge was to get the high-ceilinged hall space to feel intimate, instead of a space to pass through."
The colour palette and materials are classic, with a few bright accents here and there. Notice the interesting custom-made lighting installation – It was made from old wire fishing baskets, found at one of the owners's summer house. All of the tables are also designed and handmade by a very talented Helsinki-based wood artisan, Tebian.
All in all, Story is a charming and modern eatery, with fine wines, great service and the best ingredients along with great seaside views. "I believe we managed to grant Helsinki a space that has been missing from here!" – Joanna Laajisto
Story
Old Market Hall, Eteläranta
00130 Helsinki
+358 10 666 8458
[email protected]
Opening hours Mon-Sat 08–18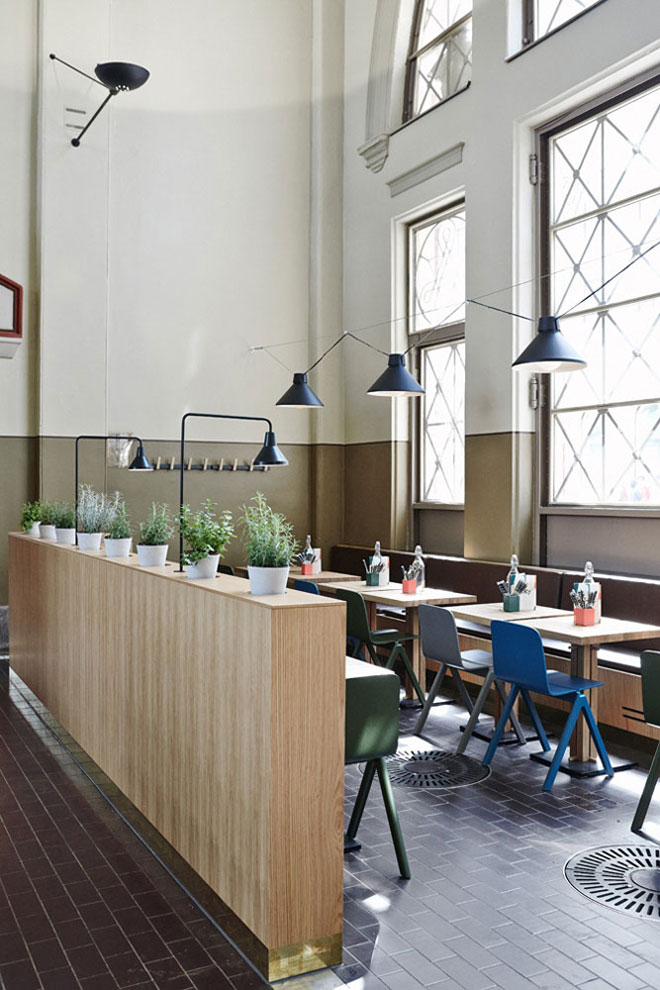 Photos: Mikko Ryhänen
---