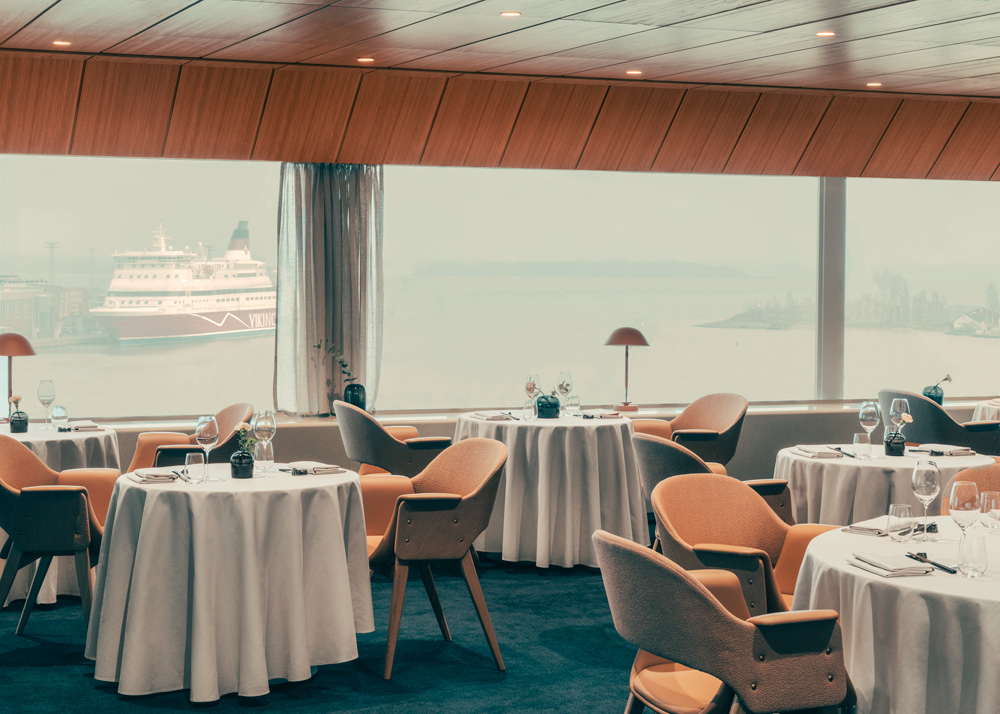 Since it opened its doors in 1952, Restaurant Palace has been a leading destination for Finnish gastronomy. In 1987, it became the first restaurant in Finland to be awarded a Michelin star.
Located on the 10th floor of a modernist building on the harbour front of Helsinki, the establishment recently went through extensive renovations. It approached Stockholm-based NOTE Design Studio to revamp its interior. The brief was not to create a very hip and trendy look, but rather to come up with something timeless that would respect the place's history and tradition, while still moving forward.
"We imagined not what Palace could be, but what it should be. For us, the space should not only convey a sense and respect for tradition, and highlight the local atmosphere, but also be expressive on its own." – NOTE Design Studio
NOTE worked closely with SARC Architects and Agency Leroy. Everything was carefully thought of, from the material and colour choices to the existing teak veneers and hollow bricks, all the way to the customer experience and brand identity.
A palette of blues and tans was selected, with brass, terrazzo and smoked glass details. I spot furniture by &Tradition, lighting by Lambert & Fils, and accessories by Menu. The look is sophisticated yet warm and inviting.
Restaurant Palace
Eteläranta 10
00130, Helsinki
Finland
+358 50 502 0718
"Having spent most of my life in Helsinki — working with Palace has been a humbling experience. We were given a chance to influence the interior of a space I have known since I was a child. I remember my grandfather speaking about Palace and its grandeur. Being given the change to create the new Palace is far beyond what I ever imagined." – My Degerth, Interior Architect at NOTE Design Studio
SaveSave
SaveSave
SaveSave
SaveSave
SaveSave
SaveSave
SaveSave
---