Located downtown Helsinki, the new look of the Radisson Blu Seaside Hotel was inspired by boutique hotels of New York and Amsterdam, as well as by its urban setting. Interior architect firm Fyra handled the massive refurbishment of the 349 rooms and hotel facilities, with meticulous details and finishing touches, all the way to the door latches.
The result is an atmospheric interior with rust-coloured couches, floor-to-ceiling bookshelves, colourful tiles and graffiti art.
The reception desks resemble old travel trunks, and behind them is a wall built out of a shipping container – Surely a nod to the neighbouring shipyard and harbour. The historical background of the place is depicted with subtle and refined details. For example, there is a guestbook in the lobby in form of a full-sized cow; dairy company Valio previously used the building as a storehouse long time ago. The design of the rooms and the style of the building complement each other. Some rooms have a soft colour palette, others have a more fresh, crisp and Scandinavian feel, or even with a slightly rawer edge décor.
Conceived to attract people to come and hang out, the lounge and lobby have a welcoming atmosphere with a personal touch. A sign "Welcome Friends" about the reception desk reflect this philosophy.
The hotel is also conveniently located near popular attractions such as the famous Hietalahti Flea Market, museums, galleries, shops, and more.
Radisson Blu Seaside Hotel
Ruoholahdenranta, 3
FI-00180
Helsinki Finland
+358 20 1234 707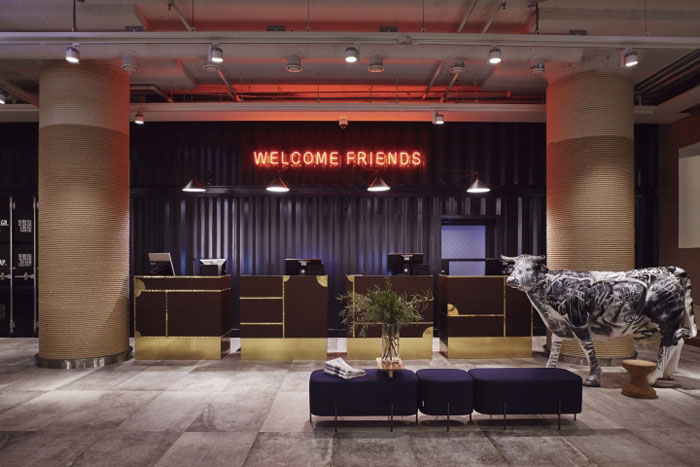 Photos: Sampsa Pärnänen
---