Big news: It's official, the Insiders Club is now open! Find out all about the perks of being a member here. Plus: If you join today, you'll get a special launch rate. Doors are open until June 3, 2020 - Join the club!
It's the last day of summer, but we can still show you one last summerhouse, right? We could not resist: This one is a little gem!
Jonas Labbé and Johannes Schotanus of LASC renovated this abandoned farmhouse for a family in Skåne, Sweden. The result is an unpretentious summer house that "brings the focus of luxury back to being about experience and simplicity: the direct relation to nature, splashes of bright colors, or the sound of water falling on wood."
Labbé and Schotanus kept the palette simple by using concrete, pine and smooth white plaster, while invigorating the interior with the addition of fresh colors. For example, colored tiles in the shower are revealed behind a cedar wood wall. "The sound of falling water on wood and the surrounding fields form the background," say the architects. "This was our way of introducing an immaterial idea of what luxury actually could be about."
Photos: Laura Stamer and Thomas Ibsen via Dwell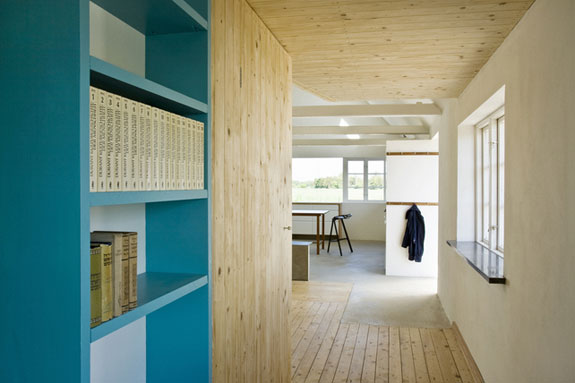 Hey! See that bookmark button just above? This is one of the many exclusive perks of being a member of the Insiders Club! Doors close on June 3, 2020 - Don't miss out!
---