Louis Poulsen has again teamed up with Danish/English designer Louise Campbell to produce a lamp, LC Shutters, and again it reflects innovative thinking. It will be officially launched in March 2012.
LC Shutters is available in two versions – a completely white edition, and one with a pattern of various colours which helps create a completely different expression, when the light is on or off. LC Shutters is 100% glare-free. It produces a soft and diffuse light, which provides ideal illumination for faces, without distracting shadows. The the light source is protected by a diffuser which shields direct viewing and also prevents it from being touched. The diffuser can be easily removed and cleaned – yet another factor which makes the pendant very maintenance friendly, both in the home and the workplace.
Louise Campbell said about her new light: "I aimed to draw attention to the balance between glare reduction and spreading the light in the room. The shade and diffuser are integrated: a single unit with a clear function – protecting against glare, creating atmosphere, but also diligently spreading the light. Despite the dense, hard material, the design expression is soft and friendly."
Her idea with the new lamp was to design a simple lamp, which could be manufactured entirely at the Louis Poulsen's own factory in Denmark. The factory specializes in machining steel, so the challenge became to experiment with finding out much it is possible to play with light from a single source using only one sheet of aluminium. "The development of this lamp has not been simple, it has taken more than two years, and soon the working title was rephrased to 'Oh, shit'", explains Campbell. "The material is beaten and battered with great, but meticulous force, through several big fat custom made machines, in order to transform from flat sheet to finished pendant. The process has literally been cut down to three basic elements: turning the shade, stamping the pattern, and painting."
Photos: Louis Poulsen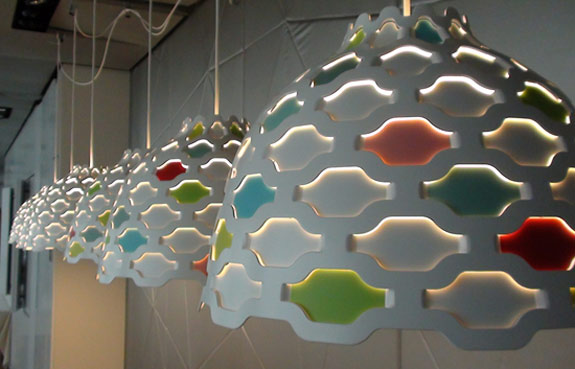 P.S. I just launched my latest painting collection and you can now shop my art here! 
---