Called Land of Giants, the project was conceived by Choi+Shine Architects. The idea was originally submitted for a 2008 competition held by Icelandic transmission company Landsnet and the Association of Icelandic Architects. It was also one of four winners at the recent 2010 Boston Society of Architects Unbuilt Architecture Awards.
The concept behind Land of Giants is to transform electrical pylons into 150 foot tall statues to 'walk' on the Icelandic landscape.
"Like the statues of Easter Island, it is envisioned that these one hundred and fifty foot tall, modern caryatids will take on a quiet authority, belonging to their landscape yet serving the people, silently transporting electricity across all terrain, day and night, sunshine or snow.In addition, the pylon-figures can also be arranged to create a sense of place through deliberate expression. Subtle alterations in the hands and head combined with repositioning of the main body parts in the x, y and z-axis, allow for a rich variety of expressions. The pylon-figures can be placed in pairs, walking in the same direction or opposite directions, glancing at each other as they pass by or kneeling respectively, head bowed at a town.
(…) These iconic pylon-figures will become monuments in the landscape. Seeing the pylon- figures will become an unforgettable experience, elevating the towers to something more than merely a functional design of necessity." –Choi+Shine Architects
Photos: Choi+Shine Architects via Dezeen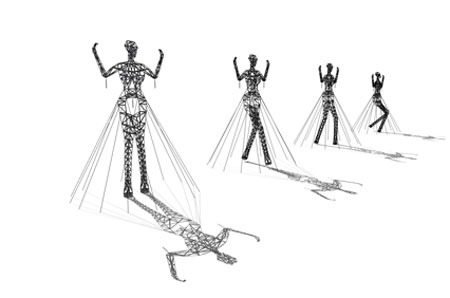 ---