Designed by Avanto Architects, this house is situated on a horse shoe shaped island and faces north and east.
Thanks to its cross like shape, the villa reaches towards four very different views, and the space is open and defined at the same time. The exterior is treated all black and contrasts with the very light interior. It also makes the building disappear totally when seen from the lake.
Constructed with the environment in mind, the house is kept simple: It is heated by wood only; there is no running water; and the electricity is provided by the sun. The owners like to catch their dinner in the pike-perch filled lake, as well as to grow their own vegetables and herbs on the plot.
"The simple and ascetic life at the countryside differs dramatically from the hectic city life and provides a possibility to live a life with a minimum impact to the nature."
Photos: © kuvio.com / Anders Portman and Martin Sommerschield via Architonic

P.S. You can now learn the skills, know-how, and design principles for improving your home and creating a beautiful Scandinavian interior - Find out how!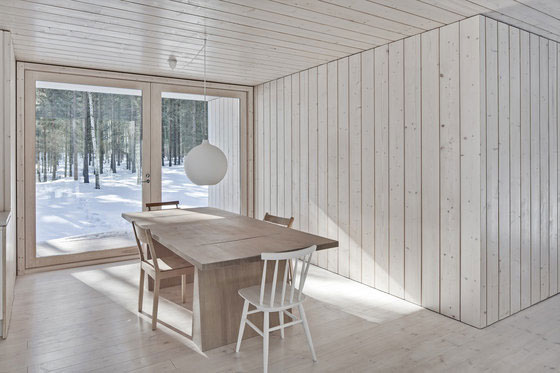 ---