Danish architects 3XN designed this impressive landmark accommodation adjacent to the Bella Center in Copenhagen. The Bella Sky Hotel consists of two towers with a striking 15 degrees inclination, with a dynamic and graphic skin of white triangular panels, offering a pixelating effect even from a great distance. With its +800 rooms, the Bella Sky is now the largest hotel in Scandinavia.
The furnishings are all natural, and a prominent living wall wrapping the lobby core sets the mood of the space — the wall is a natural air filter and helps maintain humidity while acting as a striking backdrop. The lobby is lit by a centerpiece custom designed by 3XN. The Bella Chandelier is made with over 7000 LED lamps which gradually change from a warm to a cool white to evoke the changing sky. The entire design by 3XN is designed to evoke Northern Europe's connection with the natural world.
Click here to view a video about the new hotel.
Photos: 3XN via Inhabitat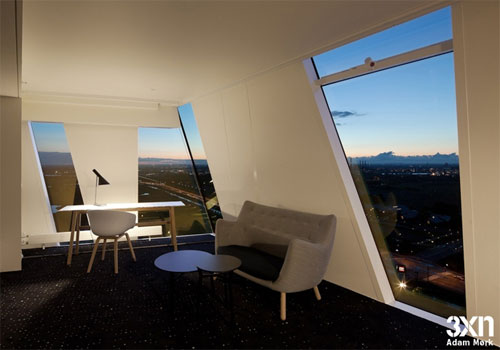 ---