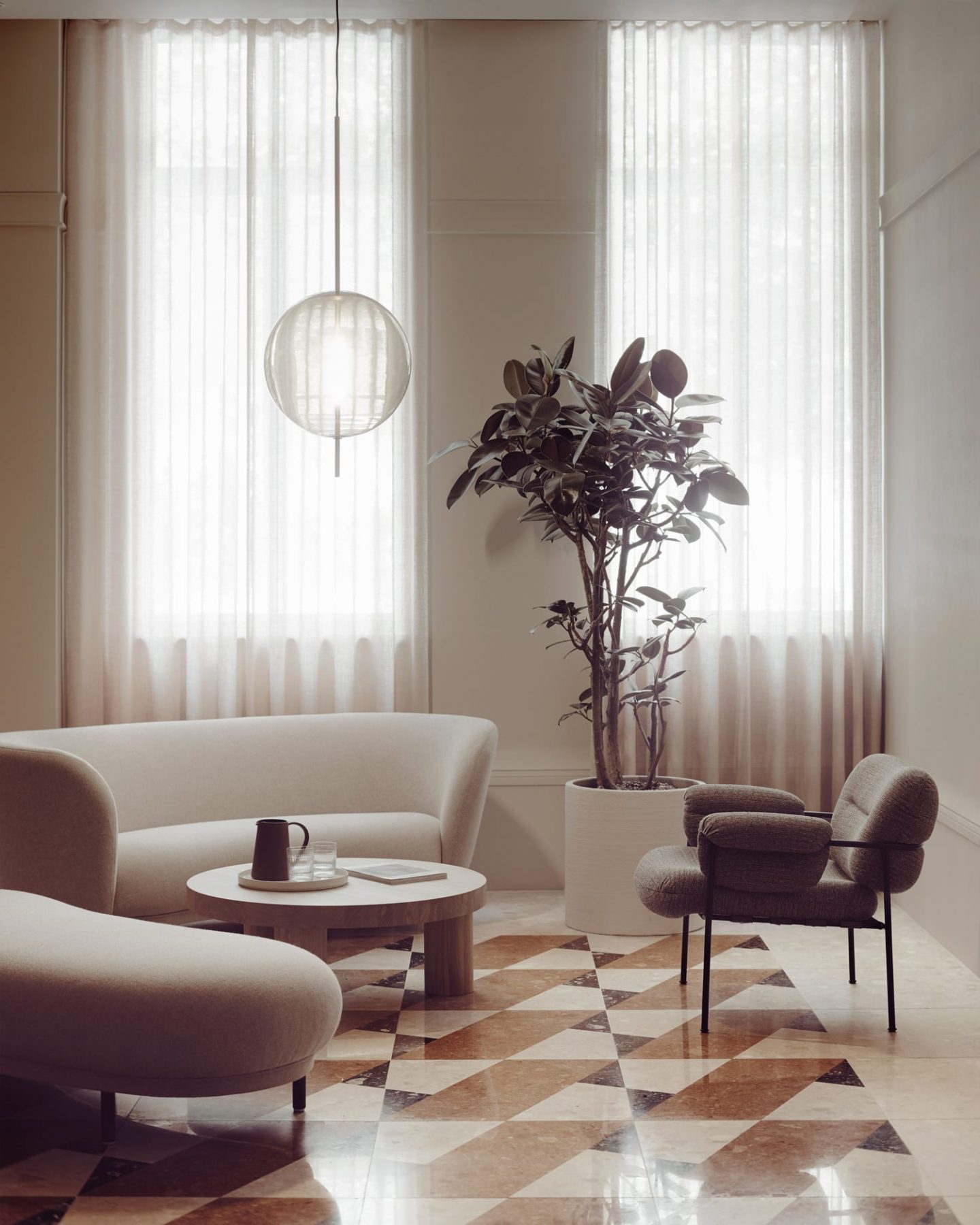 One of my favorite Swedish design firm is behind the stunning Summit House, a modern co-working space in London. The Office Group (TOG) reached out to Stockholm-based Note Design Studio for this project, and the team delivered a striking, one-of-a-kind concept.
While the beautiful 1925 facade was left untouched, the interior was completely reimagined. Swedish Grace, a pre-functionalist style of modernism that spanned the 1920s, inspired the vision for the new space. And it is quite captivating!
The look is calm and intimate, quite distinctive from other workspaces we often come across. The choice of material is traditional – stainless steel, stone, glass and terrazzo – but the warm, tone-on-tone colour schemes and eye-catching details truly make the interior stand out.
About this stunning reception area:
"Intended to captivate members and clients on entering the building, we opted to exaggerate the reception area by segmenting the elongated space with a statement tiered architectural structure to frame the space and draw attention to the Birdseye Maple reception desk. The framing is further highlighted in the selection of custom-made terrazzo flooring and funnelled entrance from the hallway, citing inspiration from Wes Anderson's use of symmetrical compositions and perspective to create eye-catching design details." – Note Design Studio
You'll spot handpicked furniture and lighting throughout the place, and many are from Scandinavia: Palais Royal tables from Asplund, pendant lamps by Astep, CH23 chairs by Carl Hansen & Son, Bollo chairs and Tiki Sofa by Andreas Engesvik, Dandy sofas and ottoman by Massproductions, Kaari tables by Artek, Bank pendant lamps by Menu, as well as Grande tables by Note Design Studio, among others.
If you'd like to see a residential project by Note Design Studio, have a look at this great little studio.
Photos: Michael Sinclair & Andrew Meredith, via Note Design Studio
---