Here is a roundup of my top picks for outdoor dining chairs!
You will find beautiful and versatile options, mostly from Scandinavian brands. Many are stylish enough to be used indoors, and I made sure to include models that are stackable and foldable for convenience (especially for small balconies – See this article for inspiration).
I didn't want to focus on garden furniture sets for this roundup, because we don't often need a completely new setup. Instead, you might want to use a simple table you've had for years and upgrade the look by pairing it with designer chairs. Or combine classic teak chairs with a modern black steel table. Or mix and match chairs, and have fun with colors and/or style.
Prices are approximate and based on the exchange rate on the publishing date. Promotions and shipping costs vary per retailer, and remember that custom duties may apply.
If you need help finding a chair at a retailer near you, do not hesitate to ask in the Facebook group or by sending me an email at [email protected]
---
BELOW $200:
1. Svelti chair, Article, $59 – A design inspired by the '50s. Made of polypropylene (plastic) and powder-coated metal. Available in 10 lovely colors. Unfortunately, Article only ships to the US and Canada at this time.
2. Janinge, Ikea, $69.00 – Designed by Swedish studio Form Us With Love for durability and comfort. Made of polypropylene (plastic), making it suitable for outdoor use. Available with or without armrests, and in yellow, white or grey. Stackable.
3. Elementaire Side Chair, Hay, $95.00 – Designed by Ronan and Erwan Bouroullec, the same creators as for the popular Palissade series (see #…). Made of UV-resistant polypropylene (plastic). Available in cream white, smokey green, blue grey, anthracite, olive (as show here), and yellow.
4. Bistro chair, Fermob, $120 – Original French design patented in 1889. Lacquered steel with anti-UV coating. Sold as a set of two, price shown per chair. Comes with a 3-year guarantee (but first check with the retailer), and is available in many beautiful colors. Nutmeg (shown here) is a personal favorite. Foldable and easy to pack away.
5. Bamchairfold, Tine K Home, $165 – Light, foldable bamboo chair by Danish company Tine K Home. Perfect for a natural look.
6. Hee Dining Chair, Hay, $195 – A simple design that has become an icon in Hay's assortment over the years. Made of galvanized steel. Available in black and white on the brand's website, although I've seen it before in other colors elsewhere. Stackable.
---
In the $200-$300 range:
7. Joi Twenty Chair, TOOU, $214 – Italian company I just found out about! This design is a tribute to Hans J. Wegner. Other models with different backrests are available in this series. Made of polypropylene with a Sunbrella seat. Stackable and UV-resistant.
8. Palissade Chair, Hay, $235 (on sale) – Designed by Ronan and Erwan Bouroullec, this is one of my favorite series from the Danish brand. Benches, tables, lounge chairs, seat pads, and chairs with armrests are also available, Choose between sky grey, anthracite or olive. Am unpainted galvanized steel version is also available.
9. Mira Chair, Skagerak, $320 (on sale) – Designed by Mia Lagerman. Stackable and lightweight chair made of powder-coated steal. Available in slate grey, hunter green and anthracite black, and comes with or without armrest.
10. Luxembourg Dining Chair, Fermob, $380 – A design that has been on my wish list for a long time – I love the entire series! A modern reinterpretation of the chair created exclusively for public gardens all around Paris in 1923 (and still in production). So many colors to choose from. Made lightweight aluminum. Easily stackable and portable.
11. Tio Chair, Massproduction, $388 – Made entirely from powder-coated and bended steel wire. Available in ten lovely colors, shown here in stone grey. An easy chair, stools and tables were also created for the series. Seat cushions and additional upholstery options are possible.
12. BM4570 Dining Chair, Carl Hansen & Son, $390 – Designed by Danish master Børge Mogensen in the late 1960s as a part of his Deck Chair Series. Made of solid teak and weather-resistant Sunbrella fabric. Foldable, and wall mount available. The stool in this series is particularly convenient, too.
---
Above $300: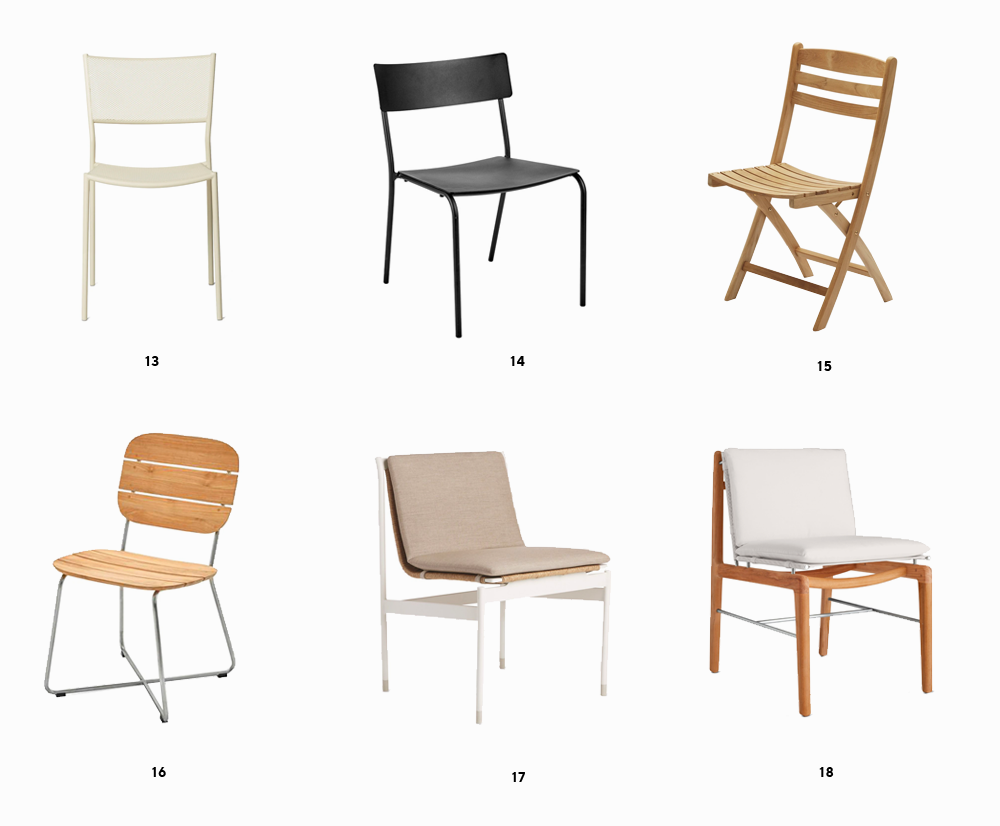 13. Jig Mesh Chair, Massproduction, $400 – Stylish, sturdy, lightweight and stackable. Bringing lightness and transparency to patios and balconies. omes in an enviable palette of select color choices. Made of steel.
14. August chair, Serax, $400 – Designed by Vincent Van Duysen, known for his stunning minimalist interiors. Sleek line with a slim silhouette. Made of aluminum. Available with or without armrests, and in black, grey or eucalyptus green. The series includes three different tables, too.
15. Selendia, Skagerak, $475 (on sale) – Great for a coastal vibe with Nordic nostalgia. Made of solid, long-lasting teak. Foldable and easily portable. More products are available in this series; I particularly like the 2-seater – So cute!
16. Lilium Chair, Skagerak, $540 (on sale) – A new design by acclaimed Danish architect Bjarke Ingels. Inspired by the shape of a lily pad. Rustic, informal yet elegant design in long-lasting teak.
17. Sommer Side Chair, Design Within Reach, $545 – Designed by Copenhagen-based Chris Liljenberg Halstrøm, inspired by the paper-cord weaving often found on Danish furniture. Made of a powder-coated aluminum frame with resin cord seat and a quick-dry foam filling and Sunbrella cover.
18. Finn Dining Chair, Design Within Reach, $695 – Award-wining design by Jonas Bjerre-Poulsen and Kasper Rønn. Made from teak with Serge Ferrari® mesh, steel fittings, and Sunbrella® cushions in black or white. Very chic.
---
Pin this for later:
First photo: A beautiful, versatile dining chair by Design Of. Shipping only in Europe at this time.
---