Announcement: Doors to the Insiders Club will open again soon! Get on the waitlist to be notified of our next enrollment period and to be eligible for special launch bonuses. For more info on all the perks of becoming a member, click here. 
Since Vipp bin was unveiled in 1939 Vipp has been synonymous with quality products for the kitchen and bathroom. Now the Danish company pushes the boundaries of its assortment and introduces its own interpretation of kitchen.
Vipp's +70 years of experience with stainless steel made it the obvious choice for their kitchen. They have that same industrial expression as their classic bin, and will stand the test of time just as much. The concept is going right down to the smallest detail – Even gas stove buttons, drawer handles, drawer inserts, hood and fittings are designed by Vipp and gives the kitchen a unique design context effect.
Vipp kitchen is available in black and white and is sold in Vipp Flagship Store,New East Street 34, 1101 Copenhagen
Photos: Vipp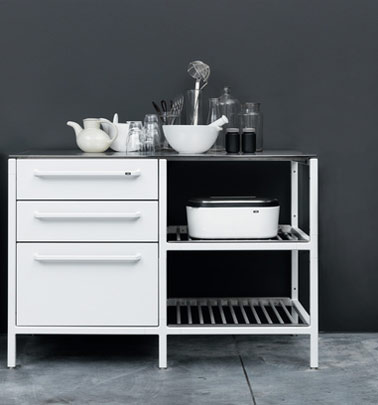 ---