Remember that post about the magic that happens when photographer Pia Ulin meets stylist Lotta Agaton? It featured gorgeous images from a recent issue of Swedish Elle Interiör.
We felt hard for that poster. Moreover, we've received several mails from readers who also wondered where it came from. It took us a little while, but we finally found out who is behind this great print.
Her name is Therese Sennerholt, and she is based in Sweden. She works with advertsing, editorial- graphic- and corporate identity. Her client list includes H&M, Audi, Oriflame Plaza Publishing, and JJP, among others. As a side hobby, she started to produce graphic prints with new and old quotations and sayings; some of which she made up herself. Now her prints are very much sought after, and they have become the latest must-have for your home.
Therese's prints are available in black and white, and in various sizes. Visit her webshop to view her work.
Photos: Therese Sennerholt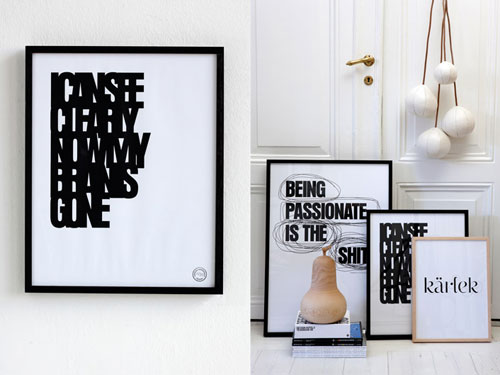 ---