Opened in March 2007, STAY offers super stylish XL hotel rooms & service apartments located on Islands Brygge, a harbour front area in Copenhagen.
Whether you're a tourist, conference guest, on a business trip, travelling through or temporarily moving home, STAY is for guest who want more than spend the night: "The need for space and tranquillity in the midst of the city lives on at STAY where guests aren't supposed to feel stockpiled or like they're just travelling through. They're supposed to feel at home."
A wide array of conveniences are available on site such as a fitness center, grocery store, gourmet bakery, hair salon, panorama lounge, and hip restaurants, among others. Each unit features a private entrance, full kitchen and laundry machines. STAY claims to have the "biggest rooftop terrace in Scandinavia" offering superb views of the Copenhagen skyline.
There are fifteen types of spacious apartments to choose from – studios, lofts and penthouses. The pared-down black and white interiorswere furnished by HAY, and walls and ceilings still feature graffiti & art from earlier days: From 2003 to 2006, the building was a shelter for local artists —among them Henrik Vibskov, Trentemøller and Tal R— who lived, worked, performed or showed there in arrangement with the building's owners. The countless artistic decorations were never removed from the walls, beams and ceilings. Click here to read the full story of STAY.
"Remaining close to its bohemian roots, Stay (with the help of a young architect) plans to convert a nearby storage facility into a new 2000 square-meter venue for concerts and exhibitions. And the hotel is at work on a concept of approaching artists and designers to curate several apartments, inviting young creatives coming to Copenhagen to stay as guests for free while they work." – Cool Hunting
Photos: STAY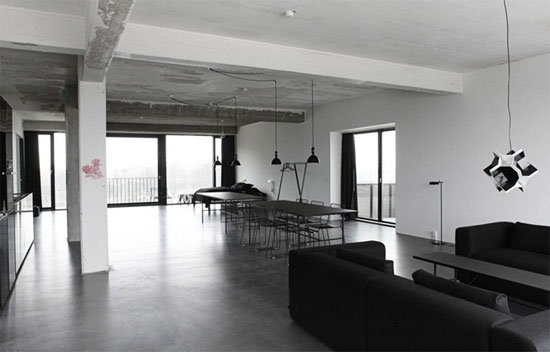 ---