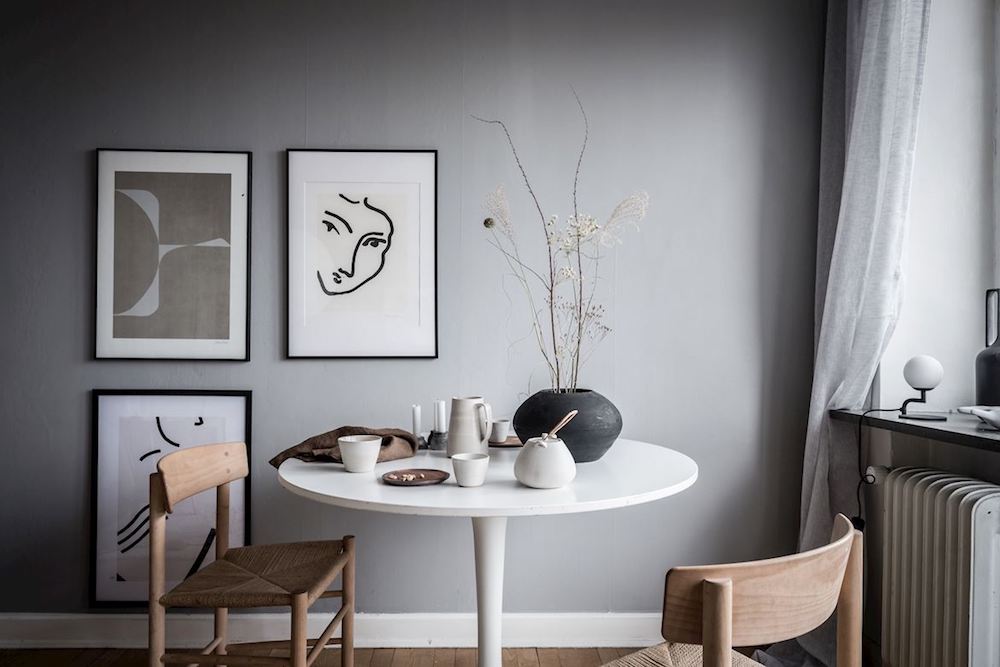 This is a small home featured on Nordic Design a few months ago. You can see all pictures here. I am a big fan of the styling because it is simple, cozy yet refined. And the look can easily be recreated – Here's how:
The walls are in a dark grey shade, which enhances the comfortable and inviting atmosphere. To keep it bright, the biggest furnishings – the rice paper lamp, the dining table, the sofa, the rug – were kept very light.
The color palette consists mainly of white and grey, with beige accents as well as a few black touches for contrast.
All true Scandinavian interiors wouldn't be complete without natural elements. Here, the oak chairs with rush seats, the linen textiles, the stoneware, the twisted branch in a vase, and the cork coffee table, bring an organic feel.
The vintage barrel back cane chair is a nice touch; it adds warmth and a lived-in appeal.
Notice also that most prints have graphic lines in black on a beige or white background. It is an easy trick to ensure cohesiveness throughout the place (especially in a small home like this) and you can easily mix & match your artwork for an almost foolproof gallery wall.
Find them here:
1. Wall paint: Pewter by Benjamin Moore
2. Tolomeo wall lamp from Artemide
3. The Wise Man 02 print by Hein Studio
4. Mags soft chaise longue sofa from Hay
5. Rice paper lamp from Hay
6. Cushion cover from Linum
7. The Line no 06 print by Hein Studio
8. Rebbar side table from Hay
9. Print by Henri Matisse, Galerie Maeght
10. J39 chair by Borge Mogensen
11. Saarinen dining table 35″ by Knoll
12. Aalto stool 60 from Artek
13. Cloud cotton duvet cover set from Parachute
14. Linen curtain panels from H&M
15. Jar vase from Fritz Hansen
17. Linen pillow case in hazel from By Mölle
A few additional notes:
The cork coffee table (the one at the end of the bed – See pictures here) is from Ikea, but it is discontinued. I did find a few on Facebook's Marketplace or similar. The model is 'Sinnerlig' and it was part of a special collaboration with designer Ilse Crawford back in 2016.
For an alternative to the sofa: Check out Ikea's two-seater Finnalata. You simply leave an armrest out and put a footstool next to it instead. Plus: The footstool has hidden storage.
For the look, any coffee table with thin metal legs will do. Same idea for the wall lamp: As long as it is a swing arm with a small shade with a thin, black metal frame, you'll get the same look.
In the dining room/corner, what works well are the chairs with a straight silhouette combined with a round table. Contrasting shapes ( curves vs lines) make the design harmonious and balanced. Also, this duo of finishes shown here looks particularly nice together: White + natural oak.
If you'd like me to help you find an alternative product and/or a retailer near you, leave me a comment below and I'll happily get back to you!
First photo: Bjurfors
---