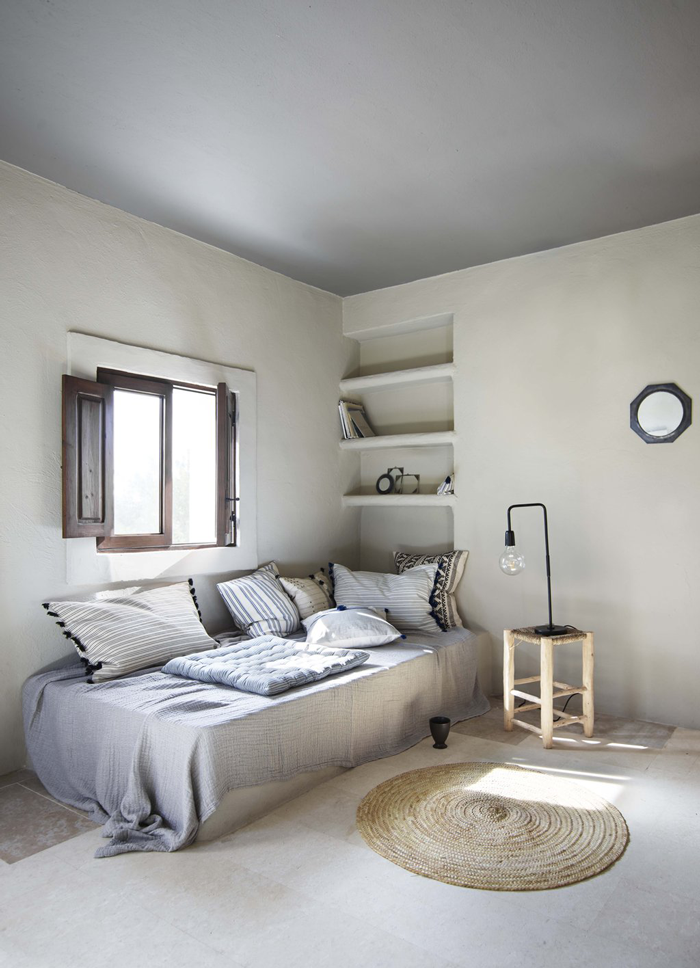 Inspired by a recent article, 'A Natural and Serene Home With the Perfect Staycation', I am sharing a few tips on how to recreate the look – A relaxing, soft, pared down and minimal decor with that vacation feel we all love, but with a Scandinavian flair.
For the perfect summer vibe, go for:
A light color palette
Natural accents in bamboo, jute, wicker, rustic wood…
A banana tree, a single leave of palm in a vase, cacti, an olive tree, etc.
Sheer curtains that gently flow with the wind
Linen cushions, throws and bed sets
A straw hat displayed on the wall or casually left on the seat of a chair
Here is a list of brands and shops I recommend if you are looking for beautiful furniture or accessories to help you create a stylish island style:
Below are products I recommend to get the "I am a stylish Dane vacationing in Mallorca" look, as seen here. All sources after the jump.
Find them here:
1. Super White by Benjamin Moore | 2. Clay pot | 3. Rattan loveseat | 4. Wool-blend cushion cover | 5. Rectangular jute rug | 6. Linen cushion covers | 7. Small rattan round basket | 8. Linen dining chair cushion | 9. Olive tree branches | 10. Stonewashed linen sheet set | 11. Wooden stool | 12. Koushi pendant lamp | 13. Rattan chair | 14. Glass vase |15. Round braided jute rug
If you like the 'Scandi meets exotic' style, have a look at the campaign pictures from Tine K Home here and here – So dreamy!
First photo: Tine K Home
---