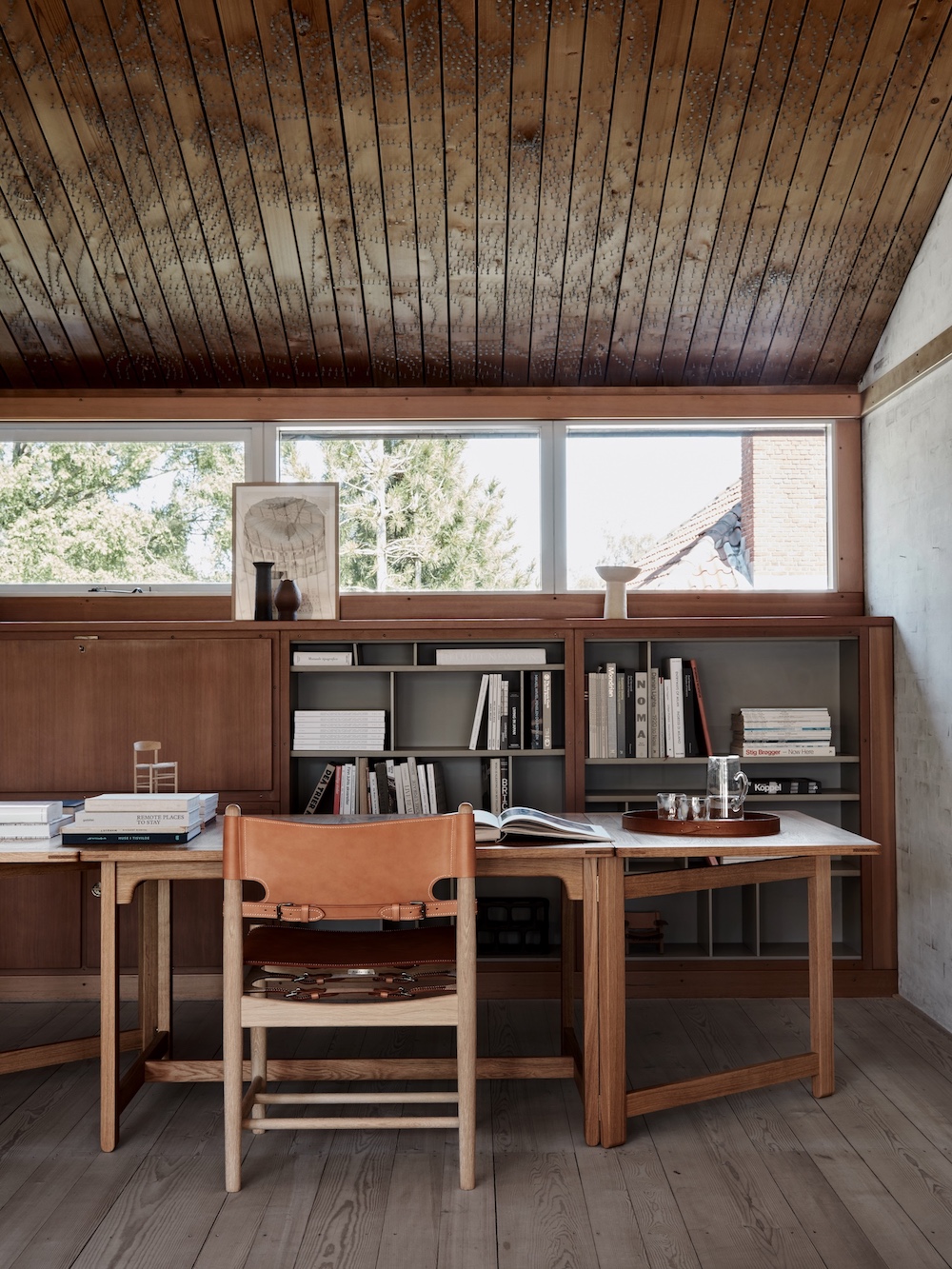 We've seen in previous articles that it is possible to create a stylish occasional home office that doesn't look like one, and that there is a myriad of beautiful, small, and multi-purpose desks out there.
But not every corner of your home is suitable for an office space, and choosing the right desk for you can be puzzling.
Your answers to the next questions will help you clarify what you value and what to look for.
Use this as a guide for your decision-making process, and create a well-equipped, functional home office.
Of course, needs and preferences differ from one person to another and, at the end of the day, the goal is to have a place that serves you well. Do what works best for you.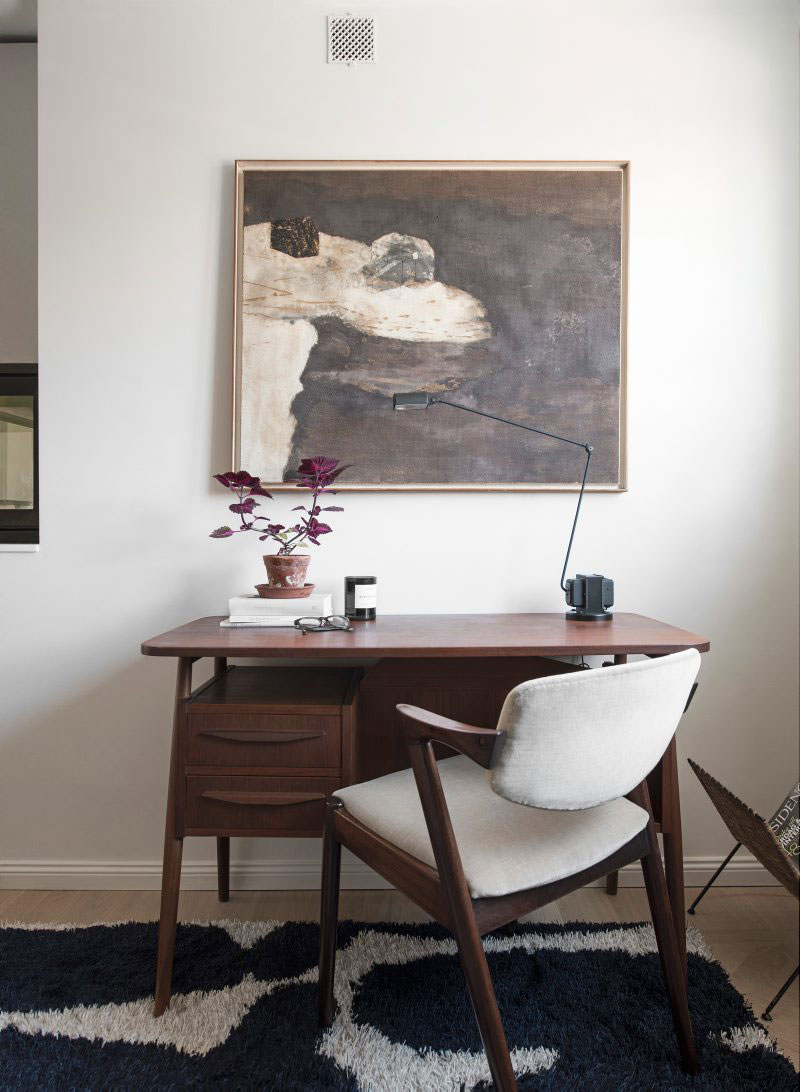 1. What tasks will you need to do at the desk?
Is it a place for paying bills, attend Zoom calls, open the mail and write in your journal, or is it a place where you'll work from 9 to 5, run a business or study for long periods of time? What you will do at the desk impacts its size.
I recommend a minimum width of 24″ (60 cm), and a minimum depth of 20″ (51 cm) – Anything smaller than that is not worthy of being called a desk.
2. Will you be taking extensive written notes?
You'll want a surface that is a minimum of 18″ (46 cm) deep for occasional notes, but something deeper will be more comfortable to write on a regular basis, and especially if you have longer arms.
3. Do you need a computer at all?
A home office doesn't necessarily require a computer; it all depends on the tasks you plan to perform at the desk.
4. Will you be typing a lot on the computer?
When lots of typing is required, think ergonomically. Typing comfortably requires a minimum depth of 28″ (71cm), and more if you are taller (and have longer arms). If your work requires lots of typing but you don't have space for a larger desk, the dining table remains your best option: It is more important to avoid strains on your neck, back, and arm than having a dedicated but cramped desk.
5. How often will you use the desk?
The more often you use the desk, the more you should prioritize comfort and size.
6. How long will you be seated?
The longer you sit at your desk, the more you should prioritize comfort and size, and invest in a quality chair.
Your legs and knees should have sufficient room under the desk, especially for prolonged working periods.
For short periods of time -and when space is limited- see if you could simply grab a nearby dining chair when needed or have a small stool pushed underneath the desk.
7. Do you work well with little or no distraction at all?
Help yourself a little, and find an unutilized space where you are likely to be the most productive. If you can't physically separate yourself from outside distractions because your home office is in a multi-purpose room, like a living room, invest in some good noise-canceling headphones, for instance.
8. Would it be a distraction if people were passing by while you work?
If you are easily distracted, don't create an office space near the kitchen or other high-traffic areas of the home.
9. Will you have regular calls / Zoom meetings that require a quiet space?
If so, make sure you choose an area that is quiet and provides privacy.
Frequent video calls require good lighting and, consequently, this dictates where you are sitting and possibly setting up your home office space). Always face your brightest source of light, and never sit with your back to a window.
10. Will you have clients or colleagues stopping by?
If so, make sure you choose a quiet area that provides privacy and with additional seating.
Also, I recommend you verify with your insurance company if you are required to extend your basic liabilities or have a separate policy. In several countries, standard home insurance is not enough. In any case, it is a good idea to
11. Who else might be using the space? And for what purpose?
Will the kids use it to do homework or to browse the web? Will your partner/spouse need it for the occasional arts and crafts project? Your home office space should serve the needs of everyone using it.
12. Do you need equipment, stationery and other supplies within an arm's reach? If so, which ones?
Think about what you need to work effectively and comfortably. Consider also all the accessories and supplies you might want to have at hand, as well as your storage solutions.
If you want to use an additional screen and still have plenty of space for other accessories, your desk depth should be a minimum of 32″ (81 cm).
13. What is the budget for your desk, chair and other accessories?
If you need to purchase furniture or equipment to set up an effective and comfortable home office, ask yourself how often will you use it and what is important – Comfort, quality, versatility, etc.
Before you buy: Determine if there is anything you can use from another room, construct yourself or up-cycle.
14. Does your office space has easy access to power outlets and sufficient lighting?
An abundance of light is very important to avoid headaches and eye strain, and easy access to electricity is a must in a home office space. A nearby power outlet is surely convenient, but it also makes it easier to conceal unsightly cord and wires, and reduces tripping hazards.
16. Where will your office space be located?
Obviously, the size of the desk is dependent on the size of your home office space.
And most of the time, the larger, the better! Identify where it will be located, measure the area, and find the biggest desk you can while taking into account the size of your chair and storage cabinets or other equipment required for your to work efficiently.
As mentioned a point #1, I recommend a minimum width of 24″ (60 cm), and a minimum depth of 20″ (51 cm). Keep in mind you need a desk clearance zone; sufficient space for you to get in and out of the chair easily. A minimum of 23″ (59 cm). So at a minimum, the area dedicated to your home office space should be 7.1 ft2 (0.67 m2) – It is not big, but it might be suitable for your needs. However, if you don't have this amount of space available somewhere around the house or require something much larger, the dining table remains your best option for your home office.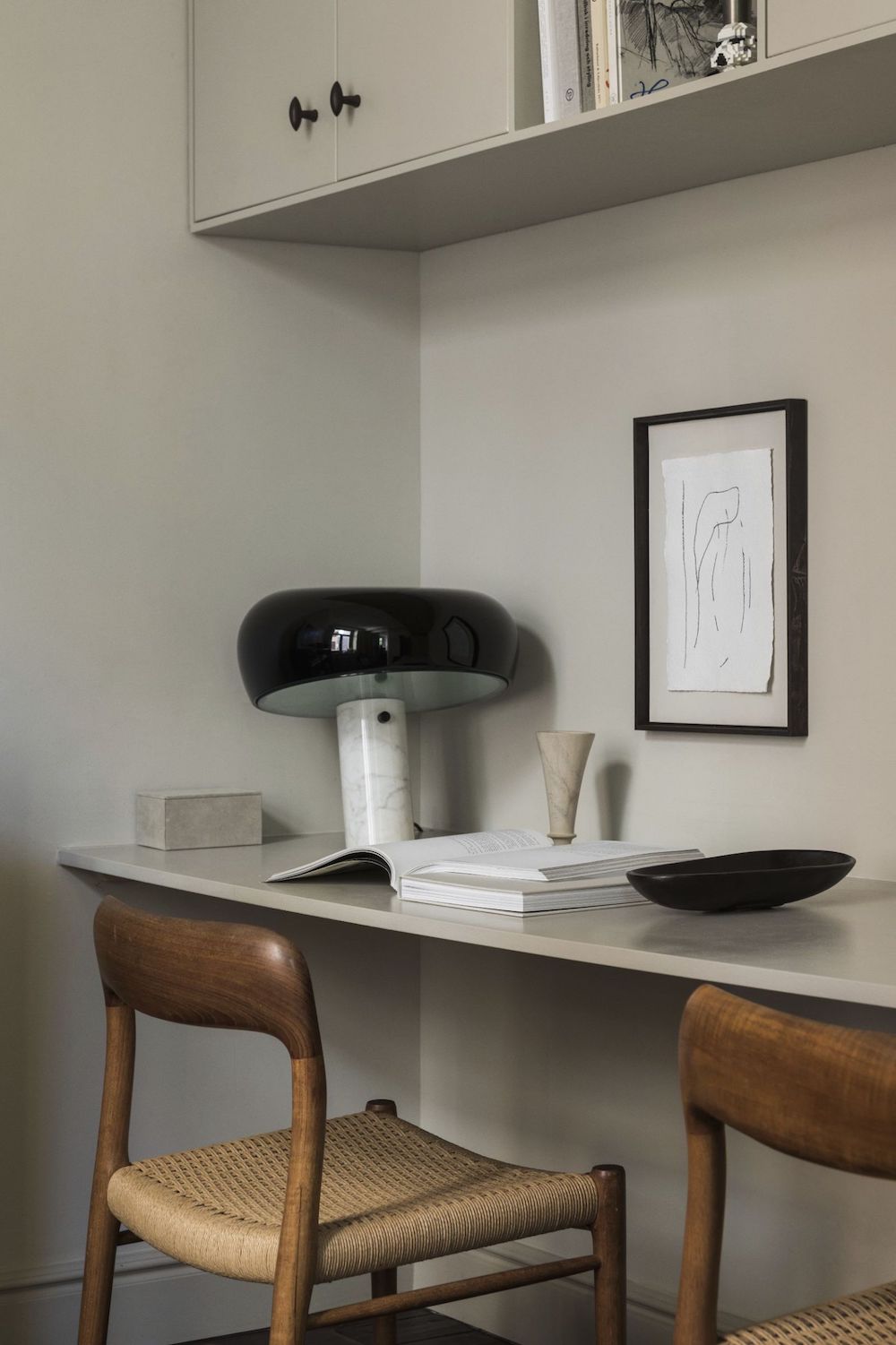 ---
If you are looking for a roundup of beautiful and versatile desks, click here. If you'd like me to help you find an alternative product and/or a retailer near you, leave me a comment below and I'll happily get back to you!
Did you enjoy this article? Let me know!
Next step: Download the workbook to help you design an efficient home office!
First photo: Fredericia
---