Built on a narrow waterfront site in the Stockholm archipelago, the Villa Plus offers breathtaking views of the Baltic sea. We love the huge windows and numerous skylights. They blur the boundaries between inside and out… Amazing!
The ground floor has a spacious living room, kitchen, bathroom and three bedrooms. The upper floor is reached via a narrow staircase and consists of a studio overlooking the sea. Since waves occasionally sweep in far further than the shoreline, a series of pillars form the foundation of the house in order to allow waves to simply pass under the body of the house (see plan below). The walls are covered with panels of Swedish pine. Over time, the exterior of the building will turn silvery gray and blend in with the surrounding pine forest.
Villa Plus was designed by Waldemarson Berglund, an architectural practice based in Stockholm. It was founded in 2001 by partners Jonas Waldemarson and Paulina Berglund.
Photos: Åke E:son Lindman via Lifeiscarbon.com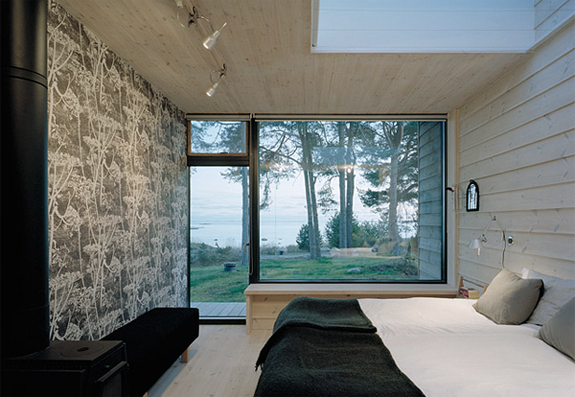 ---