This house was designed by Henning Larsen Architects for a family who wanted a modern and comfortable cottage with open plans. And according to these gorgeous pictures, they surely succeeded!
Built in Denmark with the best materials and quality, the house is at one with the surroundings and, of course, the stunning views.
The ground level is one big open space. Large glass doors can be pushed aside to give full access to the terrace. This blurs the boundaries between inside and out – Perfect on a warm summer day. And look at that infinity pool! It has precisely the width and length necessary to swim lanes.
The living room and bedrooms are on the upper level which is more secluded than the ground floor while still sharing the same view and light. In contrast to this openness, the entire south side of the house is closed with shutters and screens.
Photos: Louise Kamman Riising & Pernille Kaalund for BoBedre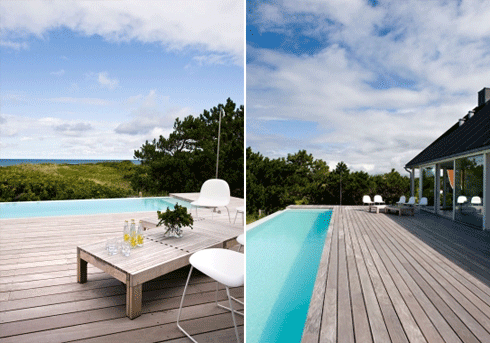 ---