Morten Bo Jensen is Chief Designer of Vipp, the iconic Danish brand famous for its stylish pedal bins. He joined the company in 2006, with the task to bring the company forward while preserving its design heritage. Vipp now has amazing kitchens, lovely glasses and tableware, and other home accessories all shown at the stunning flagship store in Copenhagen.
He kindly agreed to answer a few questions about how he intend to celebrate the Holidays, and what he truly wishes for this Christmas.
Q: How do you usually celebrate the holiday season?
A: For me Christmas means spending time with family and friends. Christmas eve we always celebrate at home with my family – usually we are 17 adults and children, so it always gets quite crowed and very 'hyggeligt' (cosy) at the table. This is always so much fun!
Q: How do you like to decorate your home at Christmas?
A: I'm super nostalgic about Christmas and decorating the home is a must every year. I'm quite romantic when it comes to Christmas decorations… I have a lot of very old stuff inherited from my grandparents… e.g. an nice little Santa made in stearin and at least 30 years old and a million Christmas elves made by Anni Lippert. All these things bring back a lot of memories making the festive days something very special.
Q: What does the perfect Christmas tree look like?
A: First of all a beautiful, well-shaped tree, at least 3m of height. A star on top, real and electric candles, folded paper stars (some of them made by myself, when I was a child) and lots of Christmas balls in various sizes and colours. Every branch that can carry will be loaded. No colour scheme and very traditional.
Q: What is your favorite Christmas memory/tradition?
A: The Christmas dinner is surely one of my favorites. On the one hand because all my dear ones are gathered and on the hand because the food, prepared by my mom, is amazing. A year without her roasted duck and pork is unthinkable. And of course also finding and decorating the Christmas tree – both inside and outside. It's important for me to keep up the old traditions… and pass them on to my children. Just like the advent wreath and some goodies for the birds on the balcony.
Q: Which song(s) is guaranteed to be on the playlist during the Holidays?
A: A lot of traditional Danish Christmas songs and also 'new' songs like Wham's "Last Christmas". The playlist covers everything – even the corny songs. I just love the atmosphere they create.
Q: What is on your wish list for Christmas?
A: Good health, happy kids, be something for others, a new sofa and the new lighting series by Vipp :)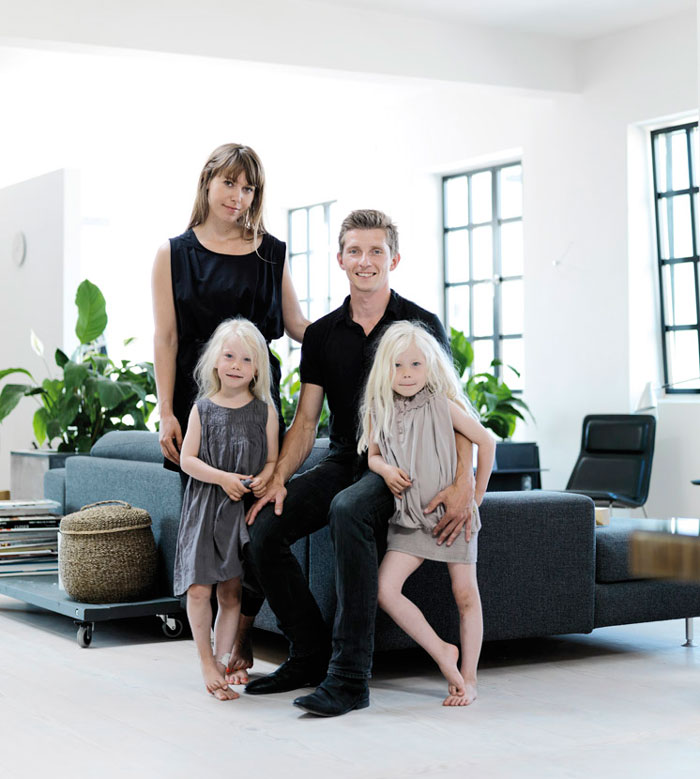 Photo: Anders Hviid Haglund
To find out what's on the wish list of stylist Lotta Agaton and designer Jonas Bjerre-Poulsen from Norm Architects, among others, check out our 2014 Christmas Magazine!
---